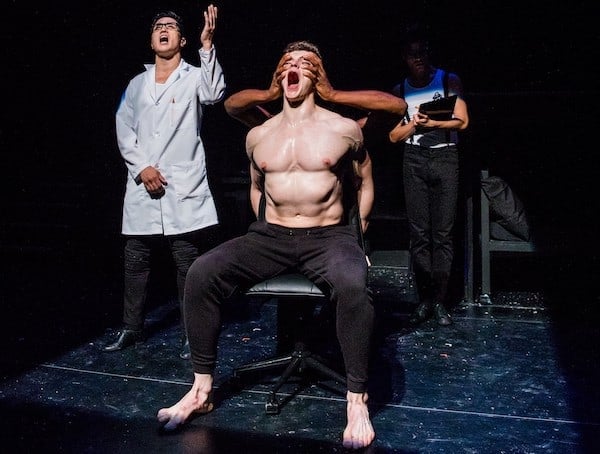 Whether you're a fan of Anthony Burgess' original novel or Stanley Kubrick's seminal film, you've certainly never seen A Clockwork Orange like this. In a sizzling new stage adaptation, directed by Alexandra Spencer-Jones, an all-male cast transforms the violent world of Alex DeLarge and his "droogs" into an intensely physical, throbbing piece of theater.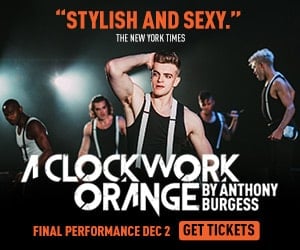 Opening recently in September on New World Stages in Hell's Kitchen, the show puts its cast through a rigorous performance where they portray multiple roles (and genders). Their fit physiques are a necessity to pull off the high-intensity choreography representing the story's most violent moments.
At the center of it all is Jonno Davies, a devastatingly handsome British actor that makes it hard not to root for Alex, even when he's at his most devilish.
We spoke with Davies about the show. See what he had to say, below.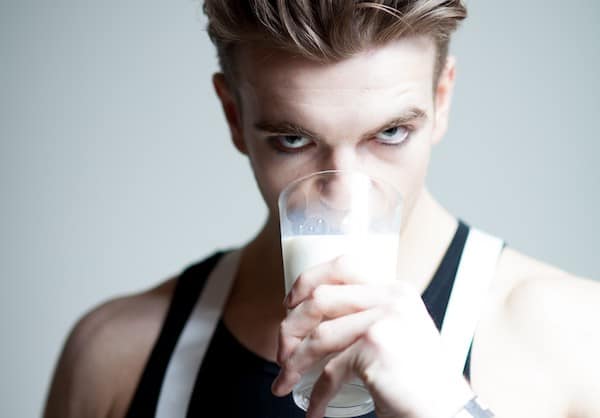 What initially interested you in A Clockwork Orange?
I had never seen the film, I had never read the book, but it was a title I was very aware of because of its controversy. I think to be able to be a part of those stories that create reaction is really appealing. Once I got the role, I read the book, and I started to dive into Alex DeLarge's mentality and this conflict of beauty and ugliness that I find really compelling. It's something I really enjoy exploring onstage, this man who is through very violent acts and terrible things, believes he is cleansing the world of its wrongs. He feels that he's educating others to be better. That, mixed in with the confusion of adolescence and everything that you go through in that period of time is mind-boggling and really exciting to explore.
This show incorporates modern music, like Gossip's "Standing In the Way of Control". How do you feel that modernity impact the show?
Clockwork is such a timeless piece. It was written in the '60s. The movie was worldwide famous in the '70s. Now, here we are in 2017 and off-Broadway. For me, the modernization of it just keeps reminding generation after generation about the topics and themes. We're at a time in the world where I think the youth of today need to be inspired. They need doors to be opened, because too many are being closed. We need to have more inclusion, but, within that inclusion, rebellion is necessary, anarchy sometimes. I think Clockwork is a fantastic portal into that world to help give the youth a voice and not to take things lying down when people in power are oppressing, and they are restricting. I think Clockwork is a brilliant example of if you set yourself to something you can make a difference.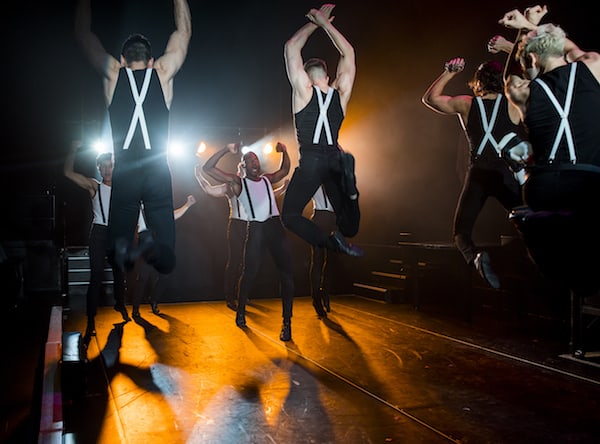 This production is notable for its all-male cast. How do you think having an all-male cast influences the show?
If you look at the novel, the female characters are, our director put it really well, "faceless." Because, again, you're seeing it through the eyes of a 15-year-old boy who is very sexually explorative. Having an all-male cast play these women is a sort of blank canvas. A lot of the parts in our show are genderless. The gender is not important. I think having a mixed cast might confuse that idea.
Because there is a sexual exploration in there, there is a homoerotic element people take away from sometimes. There is the sexual violence that's in there, which is an important part of the play. It makes me think of my adolescence and the things that go through your head when you're 15, and you're experiencing things for the first time. It's a whirlwind of sensory craziness. I think having the all-male ensemble helps drive home that exploration of masculinity, the transition between a boy and a man and how we are affected by the things around us.
It's interesting you bring up the homoerotic element of the play, because it introduces an element of titillation to the violence that is otherwise very grotesque.
That side of stuff only really comes to the forefront in New York. It's obviously run in the back of previous locations, but New York's really kind of latched itself onto that side of things. The titillation you mentioned I think is a really good word, because it does add a danger to it. It adds a sense of not really knowing what's going to happen next, not really knowing what direction the show is going to go in, and indeed what direction Alex is going to go in. I don't think Alex would label himself as gay or straight or whatever. He just sees the beauty in people. He sees the lack of beauty in people as well, which is just as important. Those people he wants to educate. Race is nothing to him, gender is nothing. It's about the soul and what those people want to do and are willing to do to make the world a better place alongside him.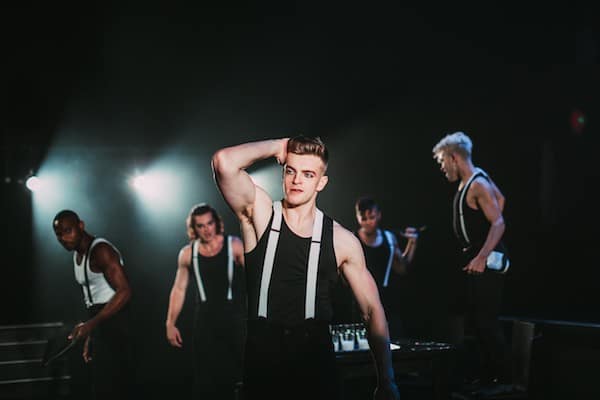 How else has the show evolved since coming to New York?
The thing that the American audience had a few issues with in the beginning was the Nadsat, the made-up English/Russian slang. I think a few people were getting confused between what was Nadsat and what was this Mancunian English accent. We tried to clarify that a bit better. We look back at it now and think we should have done it previously in other areas of the world, because it does help get the audience on-side earlier on in the piece. We want them on Team Alex. We want them tapping their foot as Alex is murdering an old woman. That's where the danger lies and that's where the excitement lies.
In terms of progression, we always relate to what's happening in the world. That's the beauty of being able to come back to a show. You always modernize it. You look at the political situations of the present, and you tie them in kind of subtlety, just in the sinews or just in the back in your mind. It's not just politics, it's global catastrophes. It's everything. It's all laced within the fabric of the show. It's great, because it means we don't purposefully have to put new text in to modernize. It just happens naturally.
Something else striking about this show is the sparseness of the set. There's not even a set designer, just a prop master. As an actor, what opportunities and challenges does that provide?
It think it's great for actors. Apart from me, the other boys play 50 characters between them. So, not relying on sets, it just really gets to champion their adaptability on stage and their transformational skills as actors. It means we tell the story with our bodies. Our bodies really have to take us into the different locations within the show. It's partly why I guess the fitness and the physical side is so important. We have to be able to cut these shapes. We have to be able to transform our bodies within two beats of a song. I think that means that the storytelling is even more important. It keeps the audience engaged in what's happening on stage rather than the fancy lights or the revolving stage or whatever.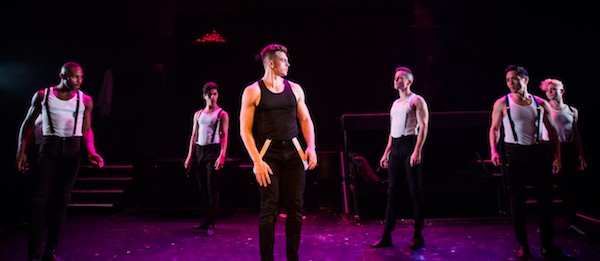 What's been the most surprising reaction you've seen to the show?
To me, I get quite surprised at the "Look at these pretty boys! Look at these pretty boys on stage kissing each other and having this sexual relationship!" because the sexualization is by no means glamorous. There's only one part in the show where we're all topless, and that is as a young, 15-year-old boy is being raped by numerous men in a jail. Now, for me, that isn't pleasant, that isn't glamorous. It's not something to celebrate. The other sexual acts are also rape. When people take it as a stimulant almost, I find that quite interesting, because it is by no means our intention. But people get attracted to darkness, I guess. The idea of danger can be stimulating. That side has always fascinated me.
How has working on this show affected you personally?
I really feel like I've matured with the show. It's made me politically a lot more aware, for sure. It's given me a voice, I have to say. I always was a very passive young man. I probably am still now, but I'm more willing to stand up for what I believe in. I'm more willing to question things, and I think questioning things at the moment is very important. A lot people with power would like to tell us the information they want and leave it at that. I think it's down to us as a society, as a human race and as artists to question these things.
A Clockwork Orange is running at New World Stages. Tickets are available at aclockworkorangeplay.com.
(Photos by Caitlin McNaney)