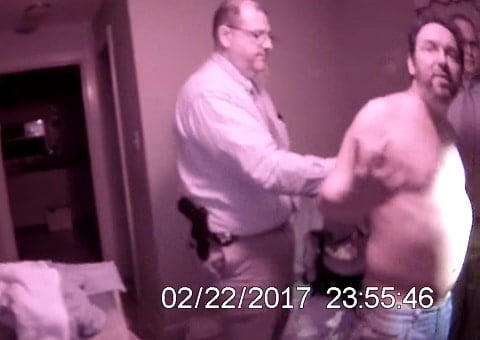 A Kentucky gay couple have claimed they were unfairly targeted and harassed in their home by local law enforcement officers.
Based in Graves County, Billy Hamilton and Patric Rodriguez were both arrested following a February 22 raid on their home, Hamilton for disorderly conduct and resisting arrest and Rodriguez for alcohol intoxication and disorderly conduct.
Rodriguez said he only had a couple drinks and took Melatonin before going to bed. In Kentucky, an AI charge has to be attributed to a public disturbance. Rodriguez claims he didn't cause a disturbance before police arrived.
Police later said that Hamilton was arrested for "harassing communications" because he called the Sheriff's Department too many times inquiring about why police were looking for Rodriguez.
According to Hamilton, police called to the couple's home earlier in the day looking for Rodriguez. He claims that police wouldn't say why they were looking for Rodriguez, despite multiple calls to a non-emergency number.
WKMS reports:
Rodriguez said he woke up later that night to find police at his door.
"I thought 'oh hey, they're here for something in the neighborhood and can I help out?' I came out with the intention to help them-assist them, with whatever they were there for," Rodriguez said. "I had no idea why they were there to do what happened next."
This time, they want Hamilton … but again won't say why. And things go downhill, Rodriguez says, when police try to enter their home.
In a video posted on YouTube by Hamilton, a police officer identified by the couple as Chief Deputy Davant Ramage, begins yelling and banging on the couple's door.
"You tell me you ain't gonna open it?" The officer said. (Rodriguez: "I will make it open") "HEY, HEY! Dipshit's going up the stairs…" The officer said. (Rodriguez: Please tell him not to hit the door) "Open this door!"…
…Ramage begins to use obscene language, while other officers can be seen laughing.
"I will tell you right now you shit apple redneck, if you raise your voice to me one more time I will throw your ass right off this porch and drag you to jail, now you need to understand that." The officer said.
The police retrieve a sledgehammer from their car to break down the door. Officers discuss how to enter the home and threaten to shoot the couple's dog, who Rodriguez warns might attack them. Hamilton  eventually unlocked the door and the officers arrest him. Rodriguez said the officers then taser his husband, which isn't seen in the video.
"There was nothing I could do, but it was terrifying to me, because there was nothing I could do- there were too many of them, I wouldn't fight back with a cop anyways no matter what. It was traumatizing, it really was." Rodriguez said.
Both men were released from jail the following morning. Hamilton said he discovered through official records that police were looking for Rodriguez in relation to an outstanding fine in another county.
The couple said they felt targeted by police the night of their arrests. In the video, police refer to both men as a "doo-dah."
The Kentucky Fairness Campaign advocates for LGBTQ people Chairperson Chris Hartman said although it's not surprising to hear about such issues, it's hard to see in the footage if the officers are discriminating.
"Marginalized people in virtually every community experience disproportionate rates of policing." Hartman said.
Hamilton has a hearing on December 18 for a motion to dismiss for lack of probable cause and unreasonable seizure. If the case is not dismissed, both Rodriguez and Hamilton will go to court in January.
The Graves County Sheriff's Department and Graves County Attorney have not commented on the case.