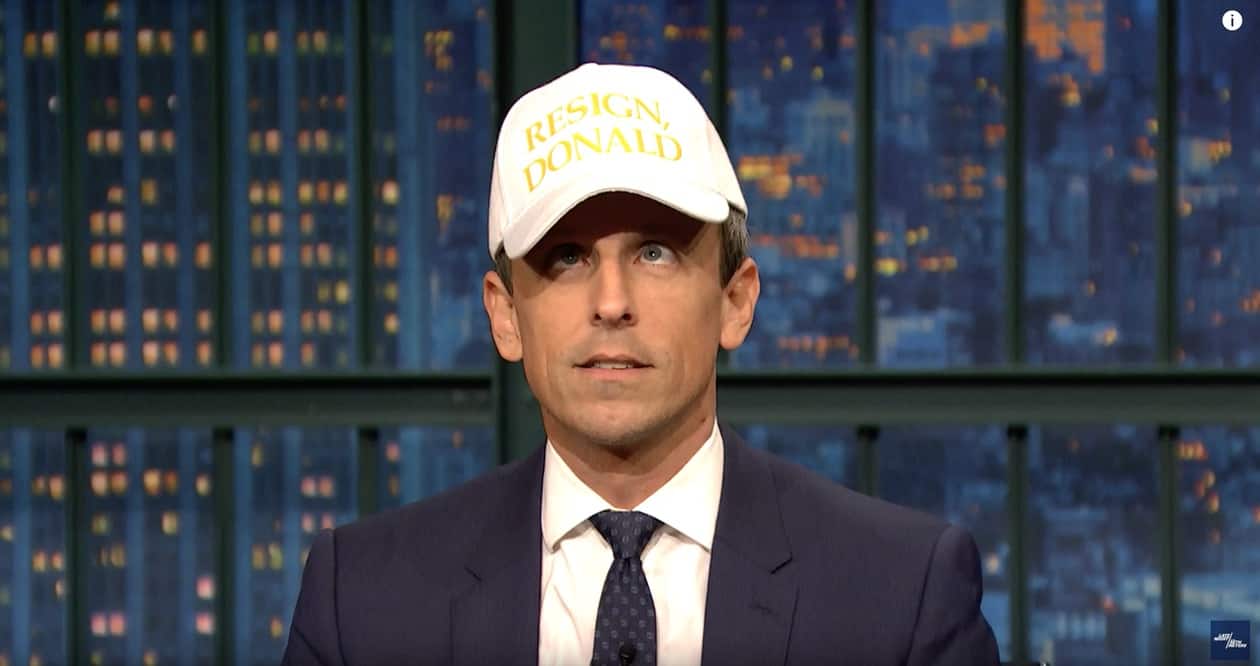 Seth Meyers dove right in to Donald Trump's Asia trip on Monday night, examining a ploy by Japanese Prime Minister Shinzo Abe to get into Trump's brain by presenting him with a custom hat that read "Donald & Shinzo – Make Alliance Even Greater".
Abe is a smart man," Meyers said. "He figured out that the only way to communicate effectively with Donald Trump is via hat, which actually gives me an idea…"
Meyers then donned a white hat with the words "RESIGN, DONALD".
Meyers also looked at "Welcome to Kenya" signs that greeted Trump in Hawaii, Trump's statement that he could not understand why a country full of Samurai warriors could not shoot down missiles from North Korea, and Trump's non-plan to ease the regions concerns over Kim Jong Un.
Meyers then moved on to the ever-encroaching Russia probe, and Trump's attempt to deflect the attention back to the Democrats:
"In the span of 20 seconds, Trump's defense went from 'there is no collusion' to 'i'm not involved in any collusion' to 'i'm not under investigation' to 'you got the wrong guy.' If Trump were ever called in for questioning, he'd crack immediately. 'Where were you on the night of the 14th?' 'Certainly not robbing a bank, but I bet Hillary was!'"
Watch:
https://www.youtube.com/watch?v=uCazyPcsv8s