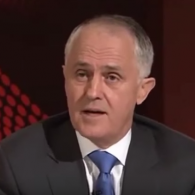 AUSTRALIA. Prime Minister rushes bill into law. "Prime Minister Malcolm Turnbull traveled to Government House where Governor-General Peter Cosgrove signed the bill into law on behalf of Queen Elizabeth II, Australia's constitutional head of state."
BAD GUYS. This is everybody who didn't vote for the bill.
SMIZING. America's Next Top Model and RuPaul's Drag Race are going to have a crossover episode.
RYAN ZINKE. Interior Secretary booked government helicopters for Mike Pence horseback riding date, other events: "Interior Secretary Ryan Zinke spent more than $14,000 on government helicopters this summer to take himself and staff to and from official events near Washington, D.C., in order to accommodate his attendance at a swearing-in ceremony for his replacement in Congress and a horseback ride with Vice President Mike Pence, according to previously undisclosed official travel documents."
APPLE. The top downloads of 2017.
MEN OF THE YEAR. Armie Hammer and Timothee Chalamet buddy up.
STUMPING. Trump makes biggest endorsement for Roy Moore yet.
https://twitter.com/realDonaldTrump/status/939149296389251072
LAMBDA LEGAL. Jon Davidson to step down: "Davidson is now deciding what to do in the next stage of his remarkable life, as he celebrates 13 years with Syd Peterson. But it is imperative that we not forget all the experience, the institutional knowledge, the inspiration, and the out-of-the-box thinking that Davidson has contributed to the LGBT community for so many years. If he's no longer a fit for Lambda Legal, where might he land? Because this gay dude ain't done yet!"
JAPAN. Country's only openly gay lawmaker says marriage equality will take years.
SURPRISE AIR DROP OF THE DAY. "My uncle's crazy ass decided to stick it out with a fire coming up the hill to his house with a water hose, then this happens"
https://www.youtube.com/watch?v=pYD70ylX924
CHRISTMAS TUNE OF THE DAY. Sam Sparro "Christmas In Your Heart".
FRIDAY FLASH. Vidal James.
https://www.instagram.com/p/BYw-IrTlBi9/?taken-by=viixiviii
https://www.instagram.com/p/BWASyQaFdae/?taken-by=viixiviii
https://www.instagram.com/p/BapL7sWFPtY/?taken-by=viixiviii
https://www.instagram.com/p/Ba4TaxQFqoq/?taken-by=viixiviii