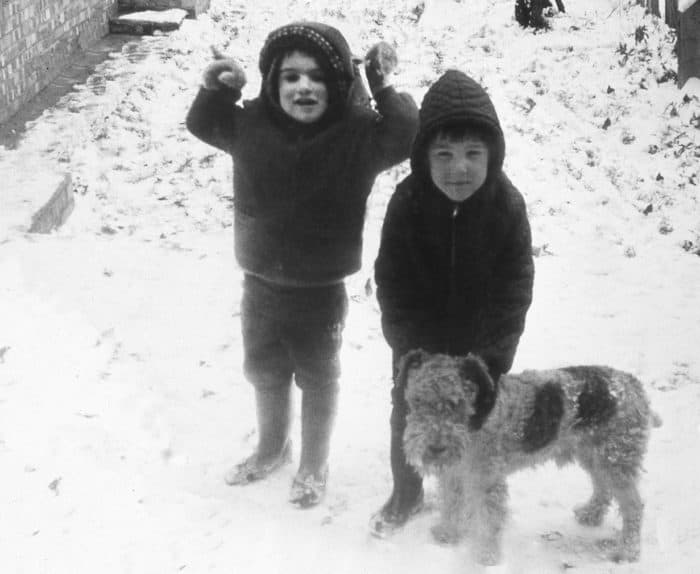 George Michael's family shared a family photo and a message on Christmas Day, remembering the singer (above, left) on the anniversary of his death last year at age 53. They refer to Michael as "Yog", a nickname derived from the pronunciation of his given name, Georgios Kyriacos Panayiotou.
Said the note, in full:
Hi Everyone,
Can't believe it is the end of the year, where has it gone…?!
We want to thank you firstly for making Listen Without Predjudice (sic) Number One again, we were happy, and sad all at the same time…
He'd have absolutely LOVED it!!
Can't you just see that beaming smile and hear him say 'Thank you my Lovelies'?
He was so happy to be giving you MTV Unplugged which he knew you had wanted… he really loved that magical night and it showed didn't it, in his stunning, joyous performance…
This year has been a series of new and tough challenges for those of us close and loyal to Yog, not least of which was steeling ourselves this month, to hear 'Last Christmas' and 'December Song' streaming out of shops, cars, and radios, as it has done for decades, knowing he's no longer here with us, missing him.
This Christmas will be hard without him, but we know that we are not alone in our mourning the anniversary of his loss, and that the sadness of our wider family, and true friends, is shared by many of you.
We are at 'that age' and realise that this year many of you will have had difficult losses too.
Yog, who loved Christmas, and always hoped it would snow… would want each of you that admired and loved him, (yes—he knows you did!!) to take a moment, raise a glass, enjoy his music and think of him fondly, making sure to enjoy your time with, and appreciate your family and friends.
As we all know Christmas is not always easy, life isn't perfect, and families are complicated…
Yog shared his music with all of us, and many of you connected deeply with his words, yet in life, many hold their own important words and feelings inside, as so often they are the hardest to say out loud.
So if you can, in his memory this year, take a moment and a deep breath and say those 'I Love You's' out loud.
We all think there is time, don't we? – but, just maybe, it's later than you think…
Have a good Christmas everyone…
and as our darling Yog would say…
"Take Care"
Melanie, Yioda, Jack & David — look
ing up
…Yog, Lesley, Anselmo, Hippy, Mo & Meg — smiling down
Michael's neighbors from Goring, Oxfordshire shared memories of the singer as well…
Michael's former boyfriend Fadi Fawaz also marked the occasion with an Instagram post of his face superimposed on Michael's:
https://www.instagram.com/p/BdHYsYljZ-W/
Michael's grave, at Highgate Cemetery in North London, remains unmarked a year after his death.