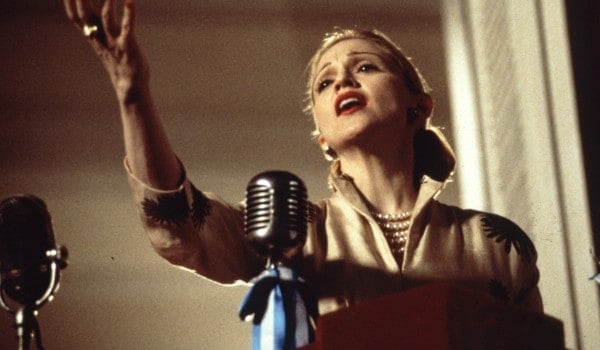 Looking for something to stream while you Netflix and chill?
Check out our picks for new films streaming this month below, including Evita, Midnight Cowboy and more.
Forbidden Games: The Justin Fashanu Story (2017), available on Netflix Dec. 1
A trailblazing soccer player, Justin Fashanu was the first openly gay professional footballer and one of the most successful black players at a time when most clubs were mostly white. This doc explores his early success and his tragic end, chronicling a sexual assault accusation that led to his suicide.
Basic Instinct 2: Risk Addiction (2006), available on Hulu and Amazon Dec. 1
You'd be forgiven for assuming this film went straight to DVD, but I can tell you personally it was in theaters, because I saw it opening night. Starring David Morrisey, Hugh Dancy and the ghost of Sharon Stone's dignity, it's the perfect pick to stream if you're in the mood for one of those so-bad-it's-good flicks.
Chicago (2002), available on Hulu Dec. 1
A movie-musical featuring the titular city's terrible carnage. Wives killing husbands, sisters killing sisters, activist judges losing courts to razzle-dazzle. Sad!
https://www.youtube.com/watch?v=jCSEM5xpIx0
Evita (1996), available on Hulu Dec. 1
This Eva Perón biopic features Madonna's second-greatest cinematic performance after Swept Away. (Just kidding! Could you even IMAGINE?)
In & Out (1997), available on Hulu and Amazon Dec. 1
Kevin Kline and Joan Cusack delight in this charming (if simplistic) coming-out comedy.
Midnight Cowboy (1969), available on HBO Dec. 1
The only X-rated film to win an Academy Award, Midnight Cowboy feels tame by today's standards. The film, directed by the openly-gay John Schlesinger, has a complicated queer history. Some consider the film's gay content (and even the relationship between the two main characters) as evidence to consider Midnight Cowboy a gay film, but the film's portrayals of gay people has also been criticized.
What are you streaming this month?
All films coming to Netflix
Available Dec. 1
8 Mile
Ace Ventura: Pet Detective
Ace Ventura: When Nature Calls
August Rush
Diana: In Her Own Words
Dreamcatcher
DreamWorks Home: For the Holidays
Exporting Raymond
The Farthest – Voyager in Space
Forbidden Games: The Justin Fashanu Story
Full Metal Jacket
Hitch
The Little Rascals
My Happy Family
Nacho Libre
Sahara
Tyson
V for Vendetta
The Wackness
The Young Victoria
Voyeur
While You Were Sleeping
Available Dec. 5
Guardians of the Galaxy Vol. 2
Available Dec. 6
Trolls Holiday Special
Available Dec. 8
El Camino Christmas
Available Dec. 11
Catwoman
Available Dec. 12
The Santa Clause
The Santa Clause 2
The Santa Clause 3: The Escape Clause
Available Dec. 14
41 Dogs in My Home
Available Dec. 15
A Five Star Life
Christmas Inheritance
Discovering Bigfoot
Drillbit Taylor
Freeway: Crack in the System
The Haunting of Helena
The Mafia Kills Only in Summer
Neverlake
Pottersville
Ultimate Beastmaster
Available Dec. 19
Miss Me This Christmas
You Can't Fight Christmas
Available Dec. 22
Bright
Available Dec. 23
Creep 2
Available Dec. 27
Pusher
Available Dec. 29
The Climb
Killer Legends
Shelter
Available Dec. 31
Fun Mom Dinner
All films coming to Hulu
Available Dec. 1
3 Ninjas
A Christmas Wedding Tail
The Adventures of Ichabod and Mr. Toad
A Princess for Christmas
Aliens of the Deep
Apocalypse Now
Apocalypse Now Redux
At Close Range
Basic Instinct 2: Risk Addiction
The Black Cauldron
Bloodsport
Breakheart Pass
The Brothers Grimm
Buffalo 66
Cheri
Chicago
Child's Play
Chilly Christmas
Coopers Camera
The Count of Monte Cristo (2002)
Crazy/Beautiful
Dirty Rotten Scoundrels
Downhill Racer
Driftwood
Everything You Always Wanted to Know about Sex…
Evita
Extortion
The Falcon and the Snowman
The Final Cut
First Kid
The French Lieutenant's Woman
George of the Jungle
Hammett
Hannibal
Heaven's Gate
Hitch
I'll Be Home for Christmas
The Improv: 50 Years Behind the Brick Wall
In & Out
In Enemy Hands
In the Line of Fire
Jack
Kill Bill: Volume 1
Kill Bill: Volume 2
L7 Pretend We're Dead
The Last Warrior
Light Sleeper
Meet Wally Sparks
A Midsummer Night's Sex Comedy
The Missing
Mississippi Burning
Moonstruck
Mr. Wrong
One From the Heart
One Magic Christmas
P2
Penelope
The Perfect Score
Political Animals
The Pope of Greenwich Village
Presumed Innocent
Primal Fear
Puppetmaster: Axis Termination
Red Corner
Robocop (1987)
Robocop 2
Robocop 3
Rocky
Rocky II
Rocky III
Rocky IV
Rocky V
S.F.W.
Sarafina!
Searching for Bobby Fischer
Searching for Sugar Man
Serpico
Shelby: A Magical Holiday Tail
Silence
The Silence of the Lambs
Space Jam
Stealing Harvard
Stigmata
The Three Musketeers
The Thomas Crown Affair (1968)
Three Men and a Baby
Titanic
Total Recall (1990)
Valkyrie
The Water Horse
The Weight of Water
Winnie the Pooh, A Valentine for You
Without
Wristcutters: A Love Story
The Yummy Gummy Search for Santa
Available Dec. 3
Cop Land
Sweet Home Alabama
The Rules of Attraction
Available Dec. 4
Frontera
Superbad
Available Dec. 5
Iron Protector
Available Dec. 6
Killers
Available Dec. 8
Crank: High Voltage
Legion of Brothers
Available Dec. 9
Dave Made a Maze
Available Dec. 12
Foreman
Available Dec. 13
Vengeance of an Assassin
Available Dec. 15
40 Days and 40 Nights
The Crow
Everest
Kate and Leopold
The Limehouse Golem
Score
Tears of the Sun
Available Dec. 18
Ragnarok
Available Dec. 20
Kim Dotcom: Caught in the Web
Available Dec. 21
Lemon
Available Dec. 22
Goat
Monster Trucks
Available Dec. 23
Banksy Does New York
Someone Marry Barry
Available Dec. 25
The Hollow One
Available Dec. 28
Literally Right Before Aaron
Available Dec. 29
Gilbert
Rings (2017)
Available Dec. 30
The Art of the Game: Ukiyo E Heros
Available Dec. 31
Always Watching
Anarchy Parlor
Osiris Child: SFv1
Pilgrimage
Solace
All films coming to HBO
Available Dec. 1
All the President's Men
The Cotton Club
Daredevil: Director's Cut
Elizabeth: The Golden Age
The Exorcist: Director's Cut
Gone in 60 Seconds: Director's Cut
Gran Torino
Hoosiers
Jack Frost
Midnight Cowboy
Night at the Museum: Battle of the Smithsonian
Pitch Black
The Pirates Who Don't Do Anything: A Veggietales Movie
Robin Hood: Prince of Thieves (Director's Cut)
Seed of Chucky
Snow White: A Tale of Terror
Something's Gotta Give
Species
Species II
Species: The Awakening
TMNT
Tremors
Tremors II: Aftershocks
Tremors 3: Back to Perfection
Tremors 4: The Legend Begins
The War of the Roses
Kenke (a.k.a. Weed)
Neon Lights
La madrina (a.k.a. The Mother of the Bride)
Marauders
Available Dec. 2
Unforgettable
Available Dec. 3
Deepwater Horizon
Available Dec. 4
The Newspaperman: The Life and Times of Ben Bradlee
Available Dec. 6
Wilson
Available Dec. 7
32 Pills: My Sister's Suicide
Available Dec. 8
María y los demás (a.k.a. Maria and Everyone Else)
Available Dec. 9
Logan
Available Dec. 11
Happening: A Clean Energy Revolution
Available Dec. 15
The Take
Me estás matando Susana (a.k.a. You're Killing Me, Susana)
Available Dec. 16
Going in Style
Available Dec. 18
Agnelli
Available Dec. 22
El Amparo
Available Dec. 23
The Zookeeper's Wife
Available Dec. 30
King Arthur: Legend of the Sword
All films coming to Amazon
Available Dec. 1
Apocalypse Now
At Close Range
Basic Instinct 2
Bloodsport
Brothers Grimm
Buffalo 66
Child's Play
Dr. Strange
Gremlins 2: The New Batch
Hammett
Hannibal
Hitch
Hulk Vs.
In & Out
In Enemy Hands
Light Sleeper
Meet Wally Sparks
Moonstruck
Next Avengers: Heroes of Tomorrow
Planet Hulk
Point Break
Rocky
Rocky II
Rocky III
Rocky IV
Rocky V
Searching for Bobby Fischer
Silence
Stigmata
The Final Cut
The Heartbreak Kid
The Invincible Iron Man
The Silence of the Lambs
The Weight of Water
Thor Animated Movie: Tales of Asgard
Titanic
Ultimate Avengers II
Ultimate Avengers: The Movie
Wristcutters: A Love Story
Available Dec. 7
Aftershock
Gun Shy
Available Dec. 8
Crank 2: High Voltage
Crown Heights
Triple 9
Available Dec. 9
It Comes at Night
Available Dec. 10
Nightcrawler
Rosewater
Available Dec. 12
Foreman
Available Dec. 21
Woodshock
Available Dec. 22
Monster Trucks
Available Dec. 23

Banksy Does New York
Someone Marry Barry
Available Dec. 29
Rings
Available Dec. 31
Brawl in Cell Block 99
Solace