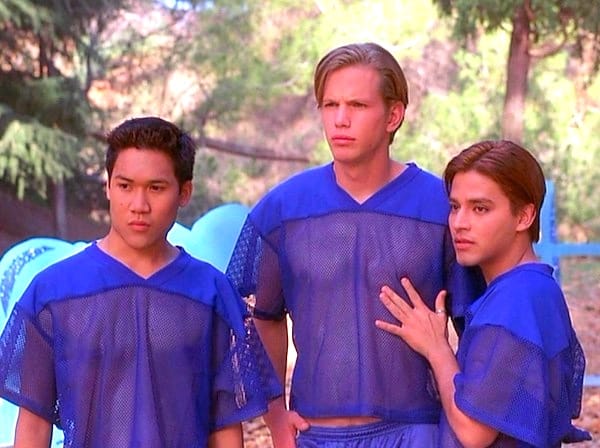 Looking for something to stream while you Netflix and chill? Check out our picks for new films streaming this month below, including But I'm A Cheerleader, Rent and more.
Capote (2005), available on Hulu and Amazon Jan. 1
The late Philip Seymour Hoffman won his only Best Actor Academy Award for this biopic of Truman Capote. The film follows the famous fop as he works on his groundbreaking true crime novel, In Cold Blood.
But I'm A Cheerleader (1999), available on Hulu and Amazon Jan. 1
Time has been kind to the legacy of this campy cult classic. After initially receiving some harsh reviews from mainstream press, the film has been embraced as sharp satire of "gay conversion" therapy. The film stars gay faves like RuPaul, Natasha Lyonne, Clea Duvall and Cathy Moriarty.
Rent (2005), available on Netflix Jan. 2
Unlike But I'm A Cheerleader, this big-screen adaptation hasn't aged so gracefully. Of course, the source material was already outdated by the time they greenlit the film version (with an aged mostly original cast). Still, as hokey as it can be at times, it's a comfort watch that is sure to ignite some nostalgia for fans of the original stage production.
Dallas Buyers Club (2013), available on Netflix Jan. 16
Powerhouse performances from Matthew McConaughey, Jared Leto and Jennifer Garner anchor this Oscar-winning picture. Although it shines a light on how the medical industry took advantage of the AIDS-crisis, the film has also weathered some criticism for its portrayal of the LGBT community.
https://www.youtube.com/watch?v=OwuuDpwPYxo
David Bowie: The Last Five Years (2018), available on HBO Jan. 8
Go behind-the-scenes of the late David Bowie's final years as he embarks on a particularly challenging time. This doc follows Bowie as he works on albums The Next Day and Blackstar, as well as the musical Lazarus.
All films coming to Netflix
Available Jan. 1
10,000 B.C.
30 Days of Night
Age Of Shadows
AlphaGo
America's Sweethearts
Apollo 13
Batman
Batman & Robin
Batman Begins
Batman Forever
Batman Returns
Breakfast at Tiffany's
Bring It On
Bring It On Again
Bring It On: All or Nothing
Bring It On: Fight to the Finish
Bring It On: In It to Win It
Caddyshack
Defiance
Definitely, Maybe
The Dukes of Hazzard
The Exorcism of Emily Rose
The First Time
Furry Vengeance
The Godfather
The Godfather: Part II
The Godfather: Part III
How to Lose a Guy in 10 Days
The Italian Job
Justin Bieber: Never Say Never
King Kong
Lethal Weapon
Lethal Weapon 2
Lethal Weapon 3
Lethal Weapon 4
License to Wed
Like Water for Chocolate
Love Actually
The Lovely Bones
Maddman: The Steve Madden Story
Marie Antoinette
Martin Luther: The Idea that Changed the World
Midnight in Paris
Monsters vs. Aliens
National Treasure
Sharknado 5: Global Swarming
The Shawshank Redemption
Stardust
Strictly Ballroom
Training Day
Treasures From the Wreck of the Unbelievable
Troy
The Truman Show
The Vault
Wedding Crashers
Willy Wonka & the Chocolate Factory
Available Jan. 2
Mustang Island
Pirates of the Caribbean: Dead Men Tell No Tales
Rent
Available Jan. 5
Before I Wake
Rotten
Available Jan. 8
The Conjuring
Available Jan. 10
47 Meters Down
Captain Underpants: The First Epic Movie
Available Jan. 12
The Man Who Would Be Polka King
The Polka King
Tom Segura: Disgraceful
Available Jan. 14
Wild Hogs
Available Jan. 15
Rehenes
Unrest
Available Jan. 16
Dallas Buyers Club
Katt Williams: Great America
Available Jan. 18
Bad Day for the Cut
Available Jan. 19
The Open House
Available Jan. 25
Acts of Vengeance
Available Jan. 26
A Futile and Stupid Gesture
Sebastián Marcelo Wainraich
Mau Nieto: Viviendo sobrio… desde el bar
Available Jan. 29
The Force
Available Jan. 30
Death Race: Beyond Anarchy
Available Jan. 31
Cars 3
All films coming to Hulu
Available Jan. 1
10 to Midnight
A League of Their Own
All Is Lost
American Ninja
Anger Management
Art of the Prank
Assassination
Avenging Force
Babel
Baby Mama's Club
Beyond the Sea
Bloodsport
Big Driver
Bill & Ted's Excellent Adventure
Bill & Ted's Bogus Journey
Black Rain
Bolero
Brothers
Burning Blue
But I'm A Cheerleader
Capote
Cold Mountain
Coming Soon
Cool World
Cross Bronx
Cube
Cube 2: Hypercube
Cube Zero
Daddy Day Care
Dangerous Curves
Down in the Delta
Drop Dead Sexy
Evolution
Excess Baggage
Flawless
Frailty
Freedom Writers
Ghoulies 3: Ghoulies Go to College
Green Street Hooligans Underground
Grizzly Man
Hamlet (1990)
Hercules in New York
Highway
Horsemen
Hot Rod
Hustle & Flow
I Spy
Invaders from Mars
Invasion U.S.A.
Ironweed
Kill the Irishman
Liz & Dick
Look Who's Talking
Look Who's Talking Too
Look Who's Talking Now
Love & Death
Love Story
Missing in Action II: The Beginning
Mona Lisa Smile
Murphy's Law
My Boss's Daughter
Night of the Living Dead 3D
Night of the Living Dead: Resurrection
Ninja III: The Domination
P.O.W. The Escape
P2
Paper Heart
Platoon Leader
Pretty Bird
Primitive
Punch-Drunk Love
Requiem for a Dream
Reservoir Dogs
Revenge of the Ninja
Revolutionary Road
Richard the Lionheart
Saturday Night Fever
Secretary
Shirley Valentine
Show of Force
Six Degrees of Separation
Sliding Doors
Songcatcher
Spaceballs
Step into Liquid
Street Smart
Subspecies
Subspecies 2
Subspecies 3
Subspecies 4
Subspecies 5
Sunshine Cleaning
The Parent Trap (1961)
The Parent Trap (1998)
The Fourth War
The Future
The Karate Kid (1984)
The Karate Kid: Part II
The Karate Kid III
The Next Karate Kid
The Perfect Weapon
The Phantom of the Opera
The Pom Pom Girls
The Presidio
The Wraith
Thelma & Louise
Total Recall (1990)
Two Family House
Uncommon Valor
War
Witless Protection
Words and Pictures
Zodiac
Available Jan. 2
Cruel and Unusual
Available Jan. 3
The Game Changer
Available Jan. 5
The Devil's Double
Available Jan. 6
Julian Schnabel: A Private Portrait
Available Jan. 7
Yakuza Apocalypse
Available Jan. 8
Frank
Available Jan. 11
These Final Hours
Available Jan. 13
XXX: The Return of Xander Cage
Available Jan. 15
12 O'Clock Boys
The Alchemist Cookbook
Are We Done Yet?
Are We There Yet?
Advanced Style
Afterimage
Bending Steel
The Boy in the Striped Pajamas
Coherence
The Diving Bell and the Butterfly
Dogs on the Inside
Meek's Cutoff
Polina
Polytechnique
The Queen
Sex Guaranteed
Soul on a String
We Need to Talk About Kevin
Wendy & Lucy
Available Jan. 18
Barista
Available Jan. 19
My Best Friend
Available Jan. 21
School Life
Available Jan. 22
Espionage Tonight
Ingrid Goes West
Available Jan. 24
Detroit
Available Jan. 25
Sword of Vengeance
Available Jan. 27
Crash Pad
Available Jan. 29
Beside Bowie
Halloween Pussy Trap Kill Kill
Available Jan. 31
All Dogs Go to Heaven
All Dogs Go to Heaven 2
All films coming to HBO
Available Jan. 1
(500) Days of Summer
12 Rounds (Unrated Version)
A Christmas Carol (1984)
Back to the Future
Back to the Future II
Back to the Future III
The Box
Cats & Dogs: Revenge of Kitty Galore
Domestic Disturbance
Harry Potter and the Sorcerer's Stone
Harry Potter and the Chamber of Secrets
Harry Potter and the Prisoner of Azkaban
Harry Potter and the Goblet of Fire
Harry Potter and the Order of the Phoenix
Harry Potter and the Half-Blood Prince
Harry Potter and the Deathly Hallows: Part 1
Harry Potter and the Deathly Hallows: Part 2
Holes
Honey, I Blew Up the Kid
Honey, I Shrunk the Kids
How to Train Your Dragon
The Hours
I Love You, Beth Cooper
The Informant!
Kindergarten Cop
National Lampoon's Animal House
Role Models (Unrated Version)
Semi-Pro (Director's Cut)
Shrek Forever After
Sideways
Street Fighter: The Legend of Chun-Li (Unrated Version)
The Time Traveler's Wife
Three Kings
Waterworld
Available Jan. 2
In a Valley Of Violence
Alex, Listen to Your Heart
Available Jan. 5
El techno (a.k.a. On the Roof)
Available Jan. 6
Everything, Everything
Available Jan. 8
David Bowie: The Last Five Years
Available Jan. 12
La punta del iceberg (a.k.a. The Tip of the Iceberg)
Available Jan. 13
The Fate of the Furious
Available Jan. 17
Morgan
Available Jan. 19
Promoción fantasma (a.k.a. Ghost Graduation)
Available Jan. 20
Snatched
Available Jan. 26
La cara oculta (a.k.a. The Hidden Face)
Available Jan. 27
All Eyez on Me
The Number on Great-Grandpa's Arm
Available Jan. 29
May It Last: A Portrait of the Avett Brothers
All films available on Amazon
Available Jan. 1
All is Lost
American Ninja
Assassination
Avenging Force
Babel
Baby Mama's Club
Black Rain
Brothers
Burning Blue
But I'm a Cheerleader
Capote
Coming Soon
Cool World
Cross Bronx
Dangerous Curves
Drop Dead Sex
Evolution
Flawless
Freedom Writers
Hamlet
Highway
Horsemen
Hustle & Flow
Invaders from Mars
Love and Death
Love Story
Murphy's Law
The Perfect Weapon
The Presidio
Platoon Leader
Pretty Bird
Primitive
Requiem for a Dream
Reservoir Dogs
Revenge of the Ninja
Revolutionary Road
Richard the Lionheart
Show of Force
Six Degrees of Separation
Step Into Liquid
Street Smart
Thelma & Louise
Uncommon Valor
Words and Pictures
The Wraith
Zodiac
Available Jan. 5
The Devil's Double
Available Jan. 7
A Ghost Story
Available Jan. 9
Prime Suspect: Tennison
Available Jan. 17
The Midwife
Available Jan. 30
Remember Me
Available Jan. 31
xXx: The Return of Xander Cage