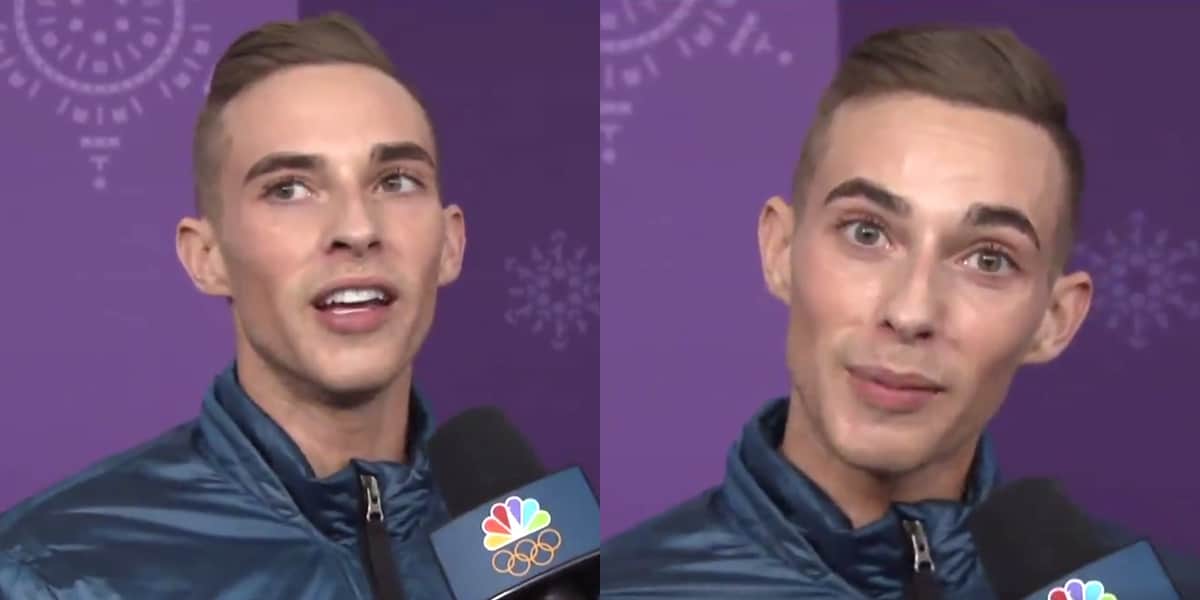 Out U.S. figure skater Adam Rippon made a thrilling Olympics debut on Sunday (unfortunately clips of the actual competition are not readily available) and gave some enlightening and hilarious post-skate interviews.
NBC's Mike Tirico interviewed Rippon after his event and asked if the Mike Pence controversy (the skater made headlines after saying he would refuse to meet with the anti-gay  VP before his event) had distracted Rippon in any way.
Said Rippon: "You know, Ive worked my entire life for this moment. But more than that, my mom has always taught me to stand up what I believe in and that has given my skating a greater purpose. So I go out there and I'm not only representing myself, I'm representing my coaches, I'm representing my country and I'm representing my teammates. So I remember that and that's how I stay focused."
According to AFP, Rippon also said "yes of course" when asked if he would now meet with the vice president.
When asked if being at the Olympics was everything he thought it would be, Rippon responded with a tilt of the head: "Andrea, it's like pretty awesome. I highly recommend it. If you ever have the option come to the Olympics. It's like, a fun time."
The #WinterOlympics: highly recommended by @Adaripp pic.twitter.com/SpX3k9vaLG

— NBC Olympics (@NBCOlympics) February 12, 2018
Rippon said that four years ago he was eating In-N-Out on someone's roof wishing he was in Sochi.
Four years ago, Adam Rippon and Mirai Nagasu were eating hamburgers on a rooftop after missing the #WinterOlympics.

Tonight, they dazzled. https://t.co/fmMl0C4Amf pic.twitter.com/CouGAilAu5

— NBC Olympics (@NBCOlympics) February 12, 2018
And he said that "I have many emotions when I step on the ice. I want to represent my country to the best of my abilities. I want to make Reese Witherspoon proud."
So, @RWitherspoon, did @Adaripp make you proud? pic.twitter.com/CgMSzm1COg

— NBC Olympics (@NBCOlympics) February 12, 2018
And he got his wish:
You're incredible @Adaripp 🌟 https://t.co/rxkzd9Vf4v

— Reese Witherspoon (@ReeseW) February 12, 2018
Rippon also made his out teammate Gus Kenworthy proud:
v proud of this guy pic.twitter.com/rlTk6is3Cy

— Gus Kenworthy (@guskenworthy) February 12, 2018
And TeamUSA won Bronze in the team event.
.@TeamUSA wins bronze in the team event! #BestOfUS #WinterOlympics pic.twitter.com/LBltlK8qxK

— NBC Olympics (@NBCOlympics) February 12, 2018