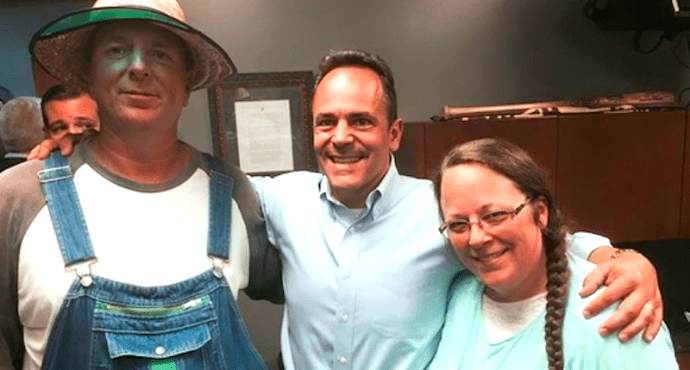 Attorneys for Kentucky Governor Matt Bevin (above, center, with anti-gay clerk Kim Davis) are preparing a brief for the Kentucky Supreme Court which will side with Blaine Adamson, the owner of Hands-On Originals, who refused to print Gay Pride t-shirts because it conflicted with his religious beliefs.
The Tennessee Star reported: "In 2012, the Gay and Lesbian Services Organization (GLSO) asked Adamson's business, Hands On Originals, to print t-shirts promoting a local gay pride festival hosted by the group. Adamson declined to make the shirts but offered to refer the GLSO to another printer. The group eventually was able to get the shirts made for free but still filed a complaint with the Lexington-Fayette Urban County Human Rights Commission, which said Adamson had violated a fairness ordinance and ordered him to make the shirts and attend diversity training."
Two lower courts have overturned the commission's ruling and the case is now at the Kentucky Supreme Court.
The AP reports: "Bevin argues Kentucky should protect the right of citizens to act according to their conscience."