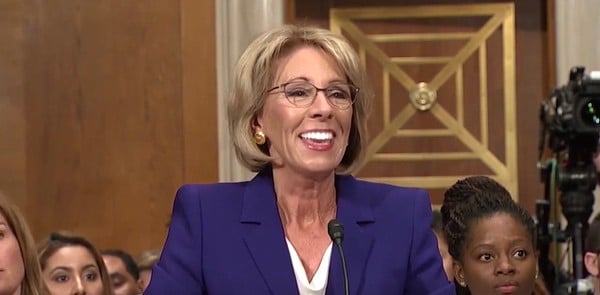 The U.S. Department of Education says it will reject civil rights complaints from transgender students, putting an official end to a period of considering how it will choose to interpret Title IX, even though two federal appeals courts have ruled that the law protects transgender students.
For the past three weeks, BuzzFeed News called and emailed Education Department officials attempting to pinpoint the agency's position.
Finally on Thursday, Liz Hill, a spokesperson for the agency, responded "yes, that's what the law says" when asked again if the Education Department holds a current position that restroom complaints from transgender students are not covered by a 1972 federal civil rights law called Title IX.
Asked for further explanation on the department's position, Hill said Friday, "Title IX prohibits discrimination on the basis of sex, not gender identity."
She added that certain types of transgender complaints may be investigated — but not bathroom complaints.
"Where students, including transgender students, are penalized or harassed for failing to conform to sex-based stereotypes, that is sex discrimination prohibited by Title IX," Hill said. "In the case of bathrooms, however, long-standing regulations provide that separating facilities on the basis of sex is not a form of discrimination prohibited by Title IX."
Adds Buzzfeed: "The Education Department's stance conflicts with two federal appeals courts, which held that Title IX guarantees transgender students' access to restrooms matching their gender identity. Lower courts have been divided on the matter. Although Hill said 'the law says' transgender student restroom complaints aren't covered by Title IX, the law does not say that."
Yet another backward and discriminatory step by the Admin as @usedgov abdicates its duty to uphold civil rights for all students. Trans students are highly vulnerable, and their rights must be protected. https://t.co/q3Auks3ZVw

— Adam Schiff (@RepAdamSchiff) February 12, 2018