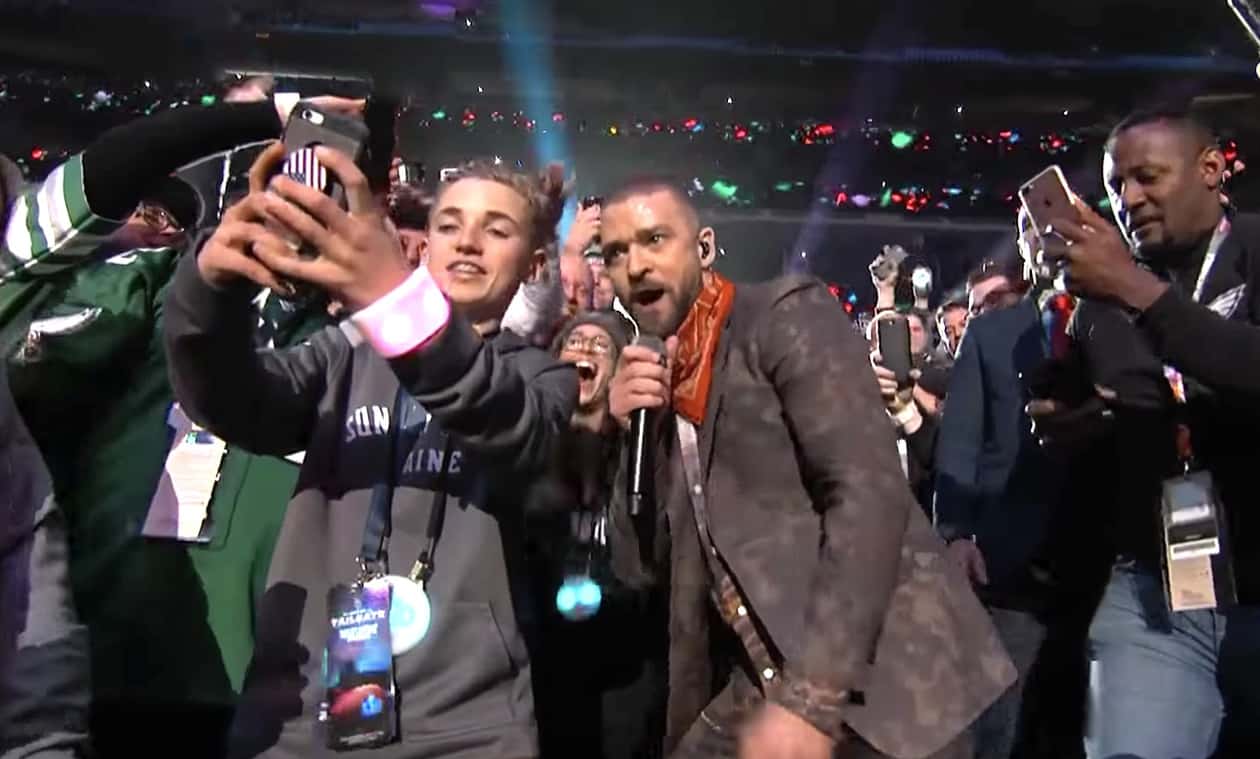 Ryan McKenna, now known as the "selfie kid" after becoming the Super Bowl's biggest meme during Justin Timberlake's halftime show, also became morning news shows' most wanted interview.
Here he is on Good Morning America.
#SuperBowl breakout star Ryan the #SelfieKid joins us live! https://t.co/pzkSdfXsth pic.twitter.com/mXvwxM5DwX

— Good Morning America (@GMA) February 5, 2018
If you missed last night's game, Timberlake got into the audience during his halftime show and enlisted McKenna to take a selfie, after which the kid proceeded to look around in a daze, finally paying more attention to his phone than the singer.
It was the kind of moment memes were made for, and the internet took full advantage.
And a shout-out to my #SuperBowl MVP: this kid who kept his cool under pressure, unlocked his phone and opened his camera app just in time for a selfie with @JTimberlake pic.twitter.com/TJH2Qv9hlA

— Ryan Seacrest (@RyanSeacrest) February 5, 2018
https://twitter.com/davpri_/status/960330196523126787?ref_src=twsrc%5Etfw&ref_url=https%3A%2F%2Fmashable.com%2F2018%2F02%2F04%2Fsuper-bowl-selfie-kid-justin-timberlake%2F
— Jen Lewis (@thisjenlewis) February 5, 2018
"I thought you said Justin Bieber" pic.twitter.com/HLJYfr7e9y

— Dave Itzkoff (@ditzkoff) February 5, 2018
https://twitter.com/Ryantheearl/status/960332446796472320
That kid taking a selfie with JT might as well be a #BlackMirror character #SuperBowl pic.twitter.com/bh6FnP84aC

— JACK ⚡️ (@jackchirps) February 5, 2018
Hilarious!😂🤣#SelfieKid #SuperBowl pic.twitter.com/dDLxGtKZ2P

— Aubrey Lynn (@LittleMissPoops) February 5, 2018
I'll save you some time: the Super Bowl selfie phone kid is a white supremacist

— Kevin T. Porter (@KevinTPorter) February 5, 2018
What the kid who took selfie with #JustinTimberlake at #Superbowl was actually doinghttps://t.co/zKClCqu7Gd pic.twitter.com/kQiAH2HDYW

— 9GAG (@9GAG) February 5, 2018
When your friend go dancing with strangers at the club and u just don't know what to do #selfiekid pic.twitter.com/MzH4237Z1y

— crazy broke asian (@tribranchvo) February 5, 2018
What #selfiekid was really doing pic.twitter.com/zemd7k1XIZ

— flamin hot cheetos (@beelorboy) February 5, 2018
JT can only laugh as 'left kid' deletes the selfie he just took. #justintimberlake #Halftime pic.twitter.com/c02sjXzjiq

— Justin Costley (@jmcostley) February 5, 2018
What really happened to The Selfie Kid during the Super Bowl. #PepsiHalftime#SuperBowl pic.twitter.com/FGga7KdLLw

— Taylor Reed (@rollbluetide) February 5, 2018
And launched a few conspiracy theories:
I have a theory #selfiekid pic.twitter.com/ohxGbHm79C

— Lil' Em Dash (@jasondotgov) February 5, 2018