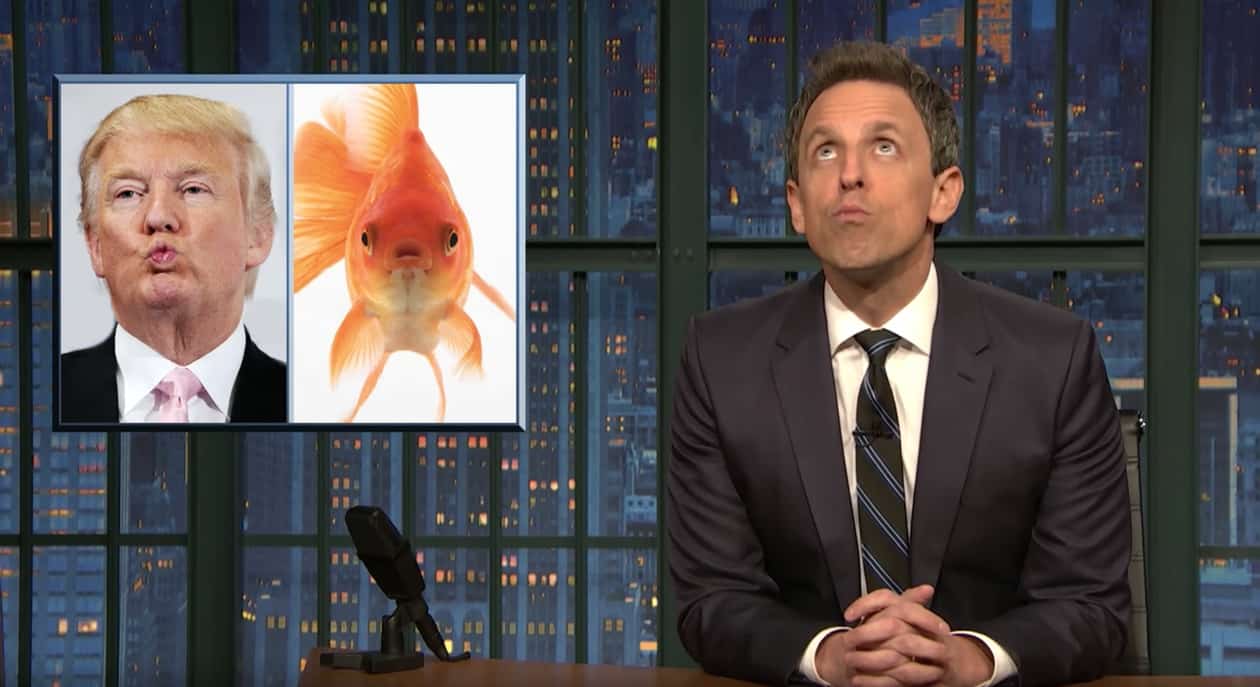 Seth Meyers took 'A Closer Look' at the sham GOP memo Donald Trump is planning to release in order to try and discredit the Russia investigation, but first there was a lot more ridiculous that came from Trump's team this week.
Meyers led off with a hilariously sad moment during this week's Republican retreat in West Virginia, when Trump forgot that he had mentioned Sen. John Cornyn's (R-TX) name less than 30 seconds after he had mentioned it.
Said Meyers: "It makes sense that Trump has the memory of a goldfish, since he also has a mouth like one. This is starting to feel like the last season of a long-running TV show when the writers decide to have the main character fall off a horse and get amnesia. 'Hi, I'm Donald.' —  'Hi, Donald. I'm John.' —  'Who's Donald!?'"
Meyers then moved on to the Russia investigation and the memo, as well as news that Trump asked Deputy Attorney General Rod Rosenstein if he was on his "team."
Said Meyers: "Oh my God, Trump is so obvious. If you met Trump on Tinder and messaged him 'Hello,' his response would be, 'What size bed do you have?'"
News also broke this week that Trump aide Hope Hicks may have obstructed justice in the Russia investigation when she told Trump that emails would 'never get out' which revealed the Trump campaign's meeting with Russians was not about adoptions but about getting dirt on Hillary Clinton.
Quipped Meyers: "Amazing. So not only did the emails get out, the comment about how the emails would never get out, got out."
Meyers also mocked Mike Pence's declaration this week that he stands by the principles of transparency.
"You've always believed in the public's right to know? In that case, will you release Trump's tax returns?"
Watch:
https://www.youtube.com/watch?v=DVlz-sGxyKM