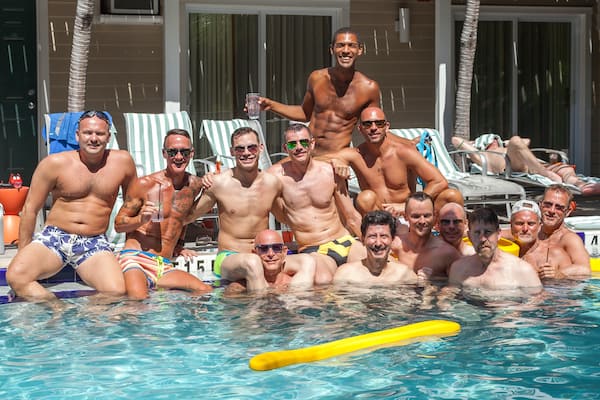 Tennessee Williams once described Key West as "a haven for those who choose to drop out of conventional society." A favorite destination for writers like Williams, Ernest Hemingway and Elizabeth Bishop, Key West has long drawn creative spirits to enjoy the relaxed "come as you are" mentality against its beautiful backdrop.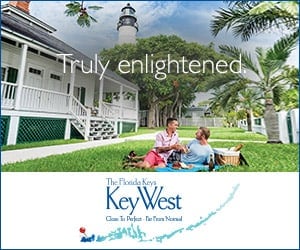 It's an unshakable ethos that's been distilled down to the island town's slick marketing tagline, "Close to perfect, far from normal," but having spent a long weekend in Key West recently, that irresistible creative energy truly permeates the entire area.
Escaping the most recent bomb cyclone, I arrived at Key West International Airport after a mere 20 minute flight from Miami. Greeted by a sign welcoming me to the "Conch Republic" — a tongue in cheek reference to Key West's brief secession in the early 1980s — it's the first indication travelers are about to enter an utterly unique environment.
At the center of the island's gay community is Island House, an all-male, clothing-optional resort around which it seems the city's daily social activities revolve. Happy hour, offering complimentary top-shelf drinks to guests from 5 p.m. – 6:30 p.m., draws lodgers as well as locals to mix and mingle in Speedos or less. The friendly (and, sure, at times frisky) atmosphere guarantees plenty of eye candy, and, once the vodka really gets going, enough buff bodies to render Island House's complimentary in-room porn channels a bit redundant.
This would be my home base for a wild four days.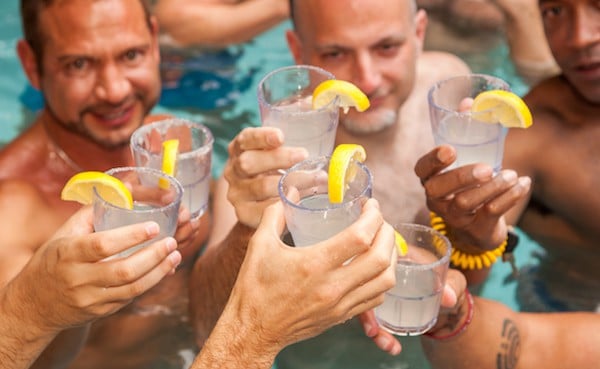 I'd be lying if I said I wasn't a bit nervous at first. I'm typically not one to disrobe in such a public manner. I wouldn't even put a shirtless picture on Instagram normally. Plus, I was traveling alone. Or, I should say, I was arriving alone, because the first thing you notice about Key West is just how easy it is to make friends.
Maybe it's the gorgeous weather, or maybe it's the magic of that many gay men together, but whatever the impetus, this is the kind of place where all those maddening subcategories and Grindr tribes feel like they're falling away. From the moment of my arrival at Island House, I was striking up conversations with men of all ages, shapes and backgrounds. There was a testicular cancer survivor who has turned his struggle into a fascinating photography project, a symphony clarinetist, a retired school teacher, lawyers, dancers, all laughing and chatting, sharing coming out stories or just thoughts on the latest RuPaul's Drag Race twist.
By my second day on the island, I couldn't walk down the street without someone shouting my name to greet me.
At night, the gay bars down the town's main thoroughfare, Duval Street, come alive. Nestled between shops selling tacky tourist T-shirts, drag queens and go-go boys hustle up business on the sidewalks, mingling with gay and straight visitors without anyone batting an eye. The bars fill with familiar faces, now wearing only slightly more clothes than poolside hours earlier, and yet, the vibe is more Cheers than Cruising.
Not that sex is hard to come by, either. If you're looking, you'll easily find it late nights at the Island House. However, if that's not your thing, you can just as easily enjoy a nightcap at the 24-hour poolside bar and café, or hit the hay on the cloud-like beds. Like most everything in Key West, you're free to do what you want with little fuss or judgment.

It's tempting to spend the days lounging in the sun, but there's plenty to see. A trip to the Ernest Hemingway Home and Museum, a staggeringly beautiful house once occupied by the author of A Farewell to Arms, The Old Man and the Sea and more. A tour of the property takes less than an hour, and it features several sightings of the famous polydactyl (extra-toed) cats, descendants of Hemingway's own pet.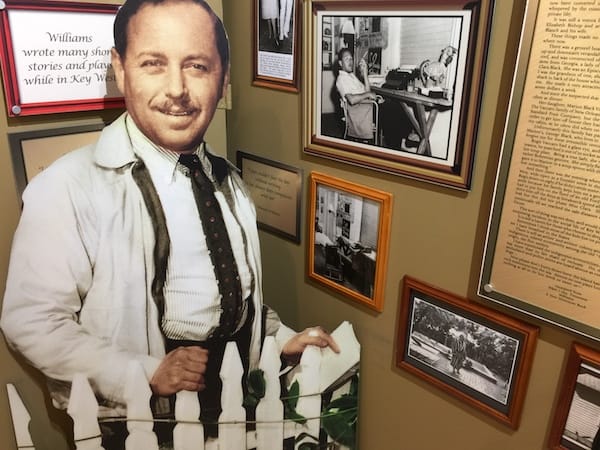 It's also worth venturing to the Tennessee Williams Key West Exhibit, a small, but expertly curated space not far from the Hemingway House. The self-guided tour features lots of memorabilia, replicas and video clips. It's the kind of cultural outing that's easily digestible, without the stress of elbowing through hordes of tourists.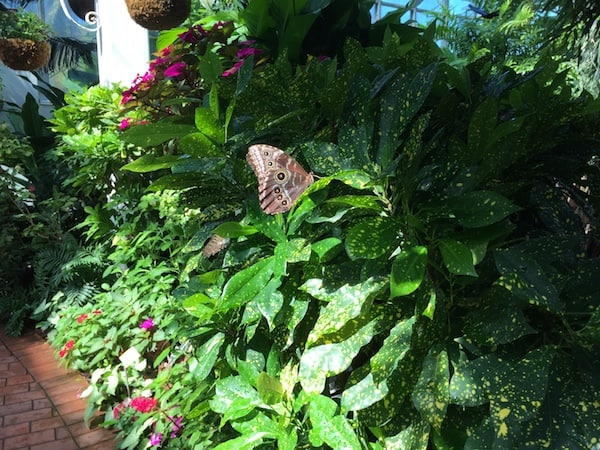 I was a bit surprised to find my favorite attraction was the Key West Butterfly and Nature Conservatory. As a grizzled New Yorker, I tend to prefer my paradises paved, so I had come into the space assuming it would be, at best, a fun spot for travelers with kids, perhaps. How wrong I was. The gorgeous gardens are home to the most striking creatures. Massive, saucer-sized blue morpho butterflies swoop through the air. A pair of flamingos, Rhett and Scarlett, preen and pose. Tiny quail scurry across the path. One begins to feel like a Disney princess.
The only thing more charming than the blissful stroll through the Conservatory garden is chatting with one of its founders, George Fernandez. As the owner of one of the city's many gay owned and operated businesses, the Butterfly and Nature Conservatory is just one example of the way the gay community is woven so deeply into the character of Key West.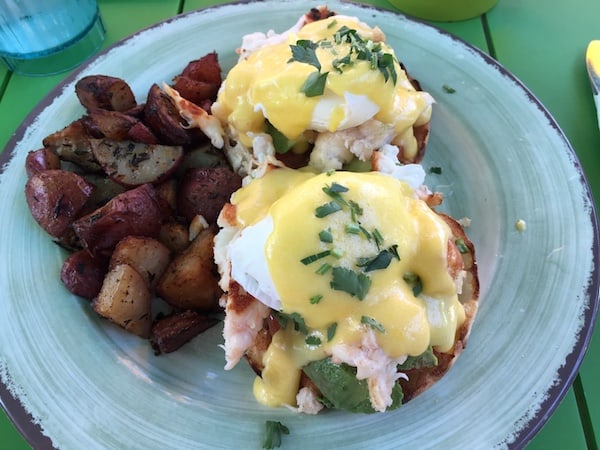 If you're planning a weekend trip, I recommend extending your stay through at least Monday, because Sundays are special on the island. First off, you're a fool if you miss brunch. The city boasts a bevy of stellar restaurants that could comfortably serve beside the best other cities have to offer. There's always some delicious seafood on the menu, whether it's the lobster benedict at Banana Café or the can't-miss, house-cured smoked salmon benedict at Azur. You won't have to worry about drinking alone, either. Even as I often booked tables for one, it was only a matter of time before I had befriended folks at the tables to either side. Brunch is always better with friends, after all.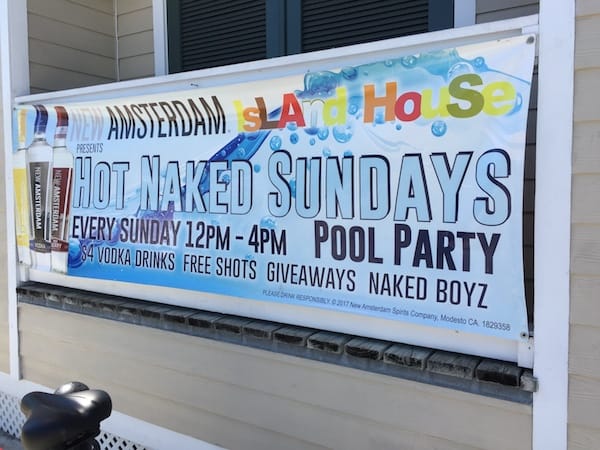 Sunday afternoons get started at Island House with a killer pool party. Music plays, free (deadly delicious) shots make their way around the pool and a raffle commences. Again, it's a healthy mix of not just the resort guests, but local guys as well. It's high-energy, but, like most things in Key West, very casual. No shirt, no shoes, (no shorts, no swimsuit), no problem.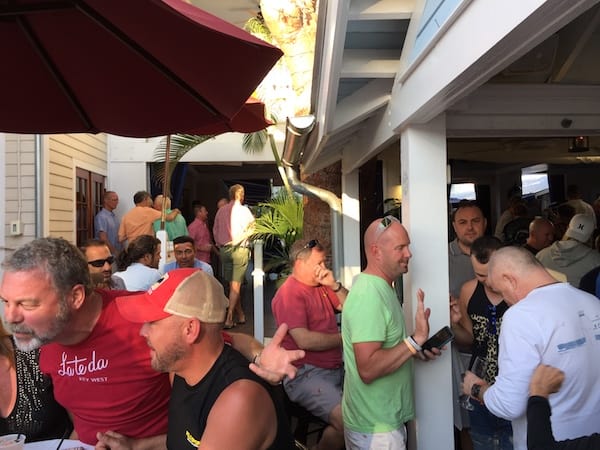 The party appears to move en masse between 4 p.m. and 5 p.m. to La Te Da for the weekly afternoon tea dance. A DJ spins classic disco tunes while patrons, spanning generations, shake their booties with reckless abandon. It's all the fun of the dancefloor without an ounce of attitude. Folks are breaking it down in swimsuits and cargo shorts, and everyone is throwing arms around one another, shouting every lyric.
The relaxed atmosphere makes packing for a trip to Key West super easy. (If you're staying at Island House, you barely have to pack clothing.) However, the one thing to be sure to leave at home is pretense. Whether you're traveling from a small town or big city, Key West is the place to bring your friends and partners for a chance to leave societal pressures behind and connect with a friendly swath of the gay community.
But rest assured, even if, like me, you're traveling alone, you can always depend on the kindness of strangers.