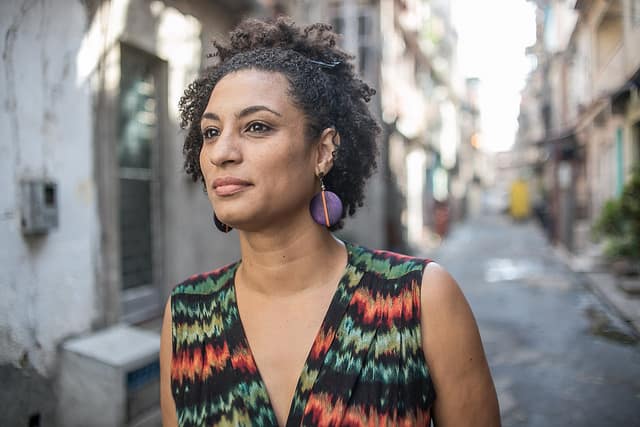 Rio de Janeiro councillor Marielle Franco was killed in a suspected assassination on Wednesday night, shot multiple times in the head by attackers in a car that had pulled up next to hers.
Franco identified as LGBT and was an activist against police violence. Franco's driver was killed. Her press secretary was injured.
Protests are planned across the country, according to The Guardian:
Marielle Franco was a groundbreaking politician who had become a voice for disadvantaged people in the teeming favelas that are home to almost one-quarter of Rio de Janeiro's population, where grinding poverty, police brutality and shootouts with drug gangs are routine.
Richard Nunes, Rio's head of public security, said there would be a "full investigation" into the deaths, which came despite the military taking charge of policing the city last month after a surge in violence.
Two police officials told Associated Press that two men in a car fired nine shots into the vehicle carrying Franco and her driver, Anderson Pedro Gomes. A press officer in the back seat was injured, but survived, the officials said. Both officials said it appeared Franco was targeted.
She was particularly known for speaking out against police violence and for social work in the poorest areas of a city, where Brazil's army has been responsible for policing since February after a surge in violence.
In a statement, her party, known by the initials PSOL in Brazil, said it could not rule out the fact she was assassinated.
"We demand an immediate and rigorous investigation of this heinous crime. We will not shut up." the statement said.
Journalist Glenn Greenwald tweeted about the incident: "Marielle was a black, LGBT woman raised in one of Rio's poorest favelas, became a human rights activist, joined the socialist PSOL party, was elected in 2016 with a massive vote to Rio City Council. Among her primary work was police violence & extra-judicial murders. So horrible.. It was a clear execution: her car was pummeled with 9 shots, 5 of which entered her head. Also killed was her dedicated driver, Anderson Pedro Gomes. She had a 19-year-old daughter, an amazing girlfriend & family. The political consequences will be strong."
https://twitter.com/ggreenwald/status/974233484318429184