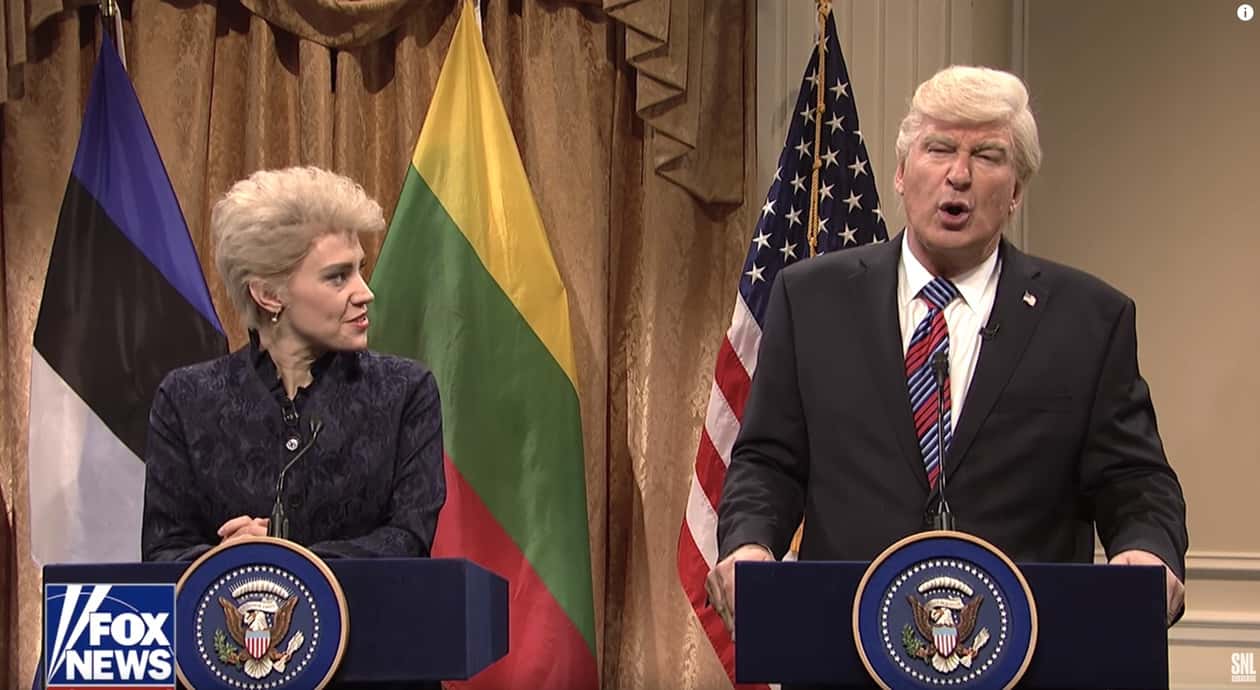 Alec Baldwin's Donald Trump returned to 'Saturday Night Live' for a press conference with the Baltic States.
Baldwin's extremely bored Trump wanted to move the conference along quickly because he had a lot of trade wars to escalate. He also announced the expulsion of Chinese billionaire 'PF Chang'.
After reading a prepared statement (to prove he could read), Baldwin's Trump tossed the paper aside ("thank God that's over") so he could "freestyle" starting with "a big congratulations to Vladimir Putin."
Trump then handed it off to "Gypsy woman" Kate McKinnon's leader of Lithuania.
As she began talking Baldwin's Trump drifted into daydream: "Oh my God, I'm already so bored. I wish I was watching Roseanne. How great is that show? Roseanne loves me. She's like a good Rosie O'Donnell."
After nodding off, Trump was hammered with some questions from the press. He handed off a question about Stormy Daniels to Alex Moffat's president of Latvia.
"We have expression in my country and it translate roughly as (pointing at Trump) 'this man is lying.'"
The next question was about why Trump is attacking Amazon. "Do you really hate Jeff Bezos that much?"
"I do. I hate Jeff," said Baldwin's Trump. "Because he's way richer than me and he admits to being bald, so I'm threatened on two levels."
When confronted with a question about sending the national guard to the board, Baldwin's Trump responded: "Seriously? You're gonna come at me like that? Do I come to the shoe that you live in and slap the potato out of your mouth?"
When asked if he's worried that his tariffs have ruined the economy and his immigration policies are destroying the country's standing in the world, Baldwin's Trump responds:
"No I'm not. I'm not worried at all. Because here's the thing that no one else is saying and I'm the only one who's willing to actually say this. I. Don't. Care. About. America. This whole presidency is a four year cash grab and admitting that will probably get me four more years."
Watch: