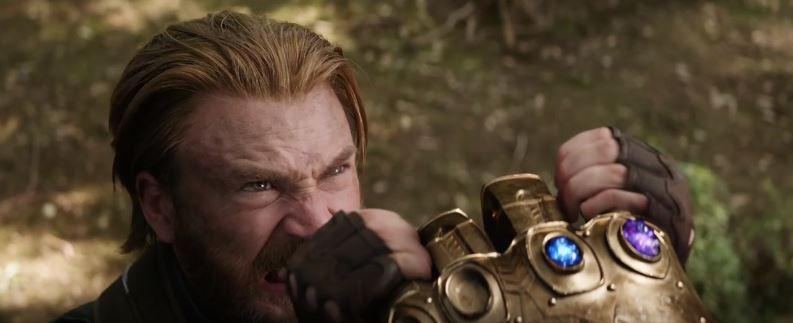 NOTE: THE FOLLOWING THOUGHTS ARE FREE OF SPOILERS (THE MOVIE HAVING JUST OPENED) EXCEPT FOR THE MOVIE'S OPENING BATTLE AND A VAGUE SPOILER ABOUT THE GENERAL NATURE / IMPERMANENCE OF SUPERHERO DEATHS WITHIN THIS GENRE.

If gloves make a big fashion comeback, blame Thanos. The alien destroyer has been haunting the Earth's Mightiest Heroes (aka The Avengers) from the sidelines (aka the post credits sequences) for a full decade of moviegoing. He's ben on hunt for the six "Infinity Stones," (aka the Tesseract, The Aether, etc…) to decorate and power his universe-controlling glove (aka the "Infinity Gauntlet"). Sorry for all those 'also known as' asides but there are so many names to keep track of!
Consider, though it's much less difficult if you don't, that most of the six Infinity Stones have gone by at least two different names within the last decade's worth of Marvel movies. We'll cite just one example since it's crucial to the story…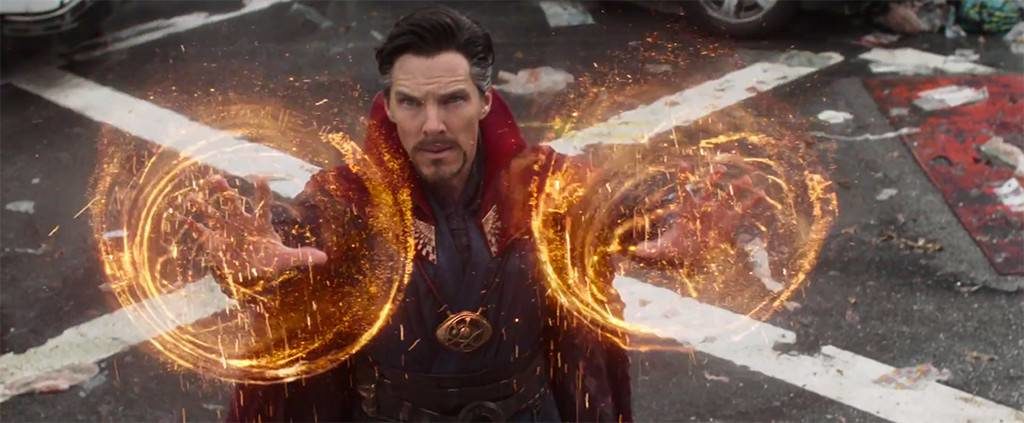 The most familiar gem from the previous movies is "The Mind Stone".  When last we checked in with our heroes it was sitting all lovely and golden on the broadly handsome expanse of The Vision's Paul-Bettany shaped forehead… but it didn't start there! If I'm connecting the CGI dots properly it began life as the blue Tesseract cube from Captain America: The First Avenger but spent most of its headlining movie stardom in the Thor movies whilst embedded in Loki's scepter. Previously the Mind Stone was used to possess people but with The Vision (aka the artificial intelligence formerly known as "Jarvis") it made him sentient and he mostly uses the stone to shoot laser beams. As one does.
Anywayyyy…
The Infinity Stones are so powerful that they can alter reality, grant super powers, reverse time, and break all opening weekend box office records when sharing the screen.
That's a lot of backstory but what are superhero myths without backstory? The worst thing that can be said about the superhero genre as a whole is how often it defaults to origin story retreads — how many times exactly do we need to see Bruce Wayne's parents die or Spider-Man get that radioactive bite? Perhaps the best that can be said about Avengers: Infinity War is that it never once slows down to let you catch up. It trusts that you know all these characters already or are willing to just hop on the rollercoaster with them toward yet another apocalypse.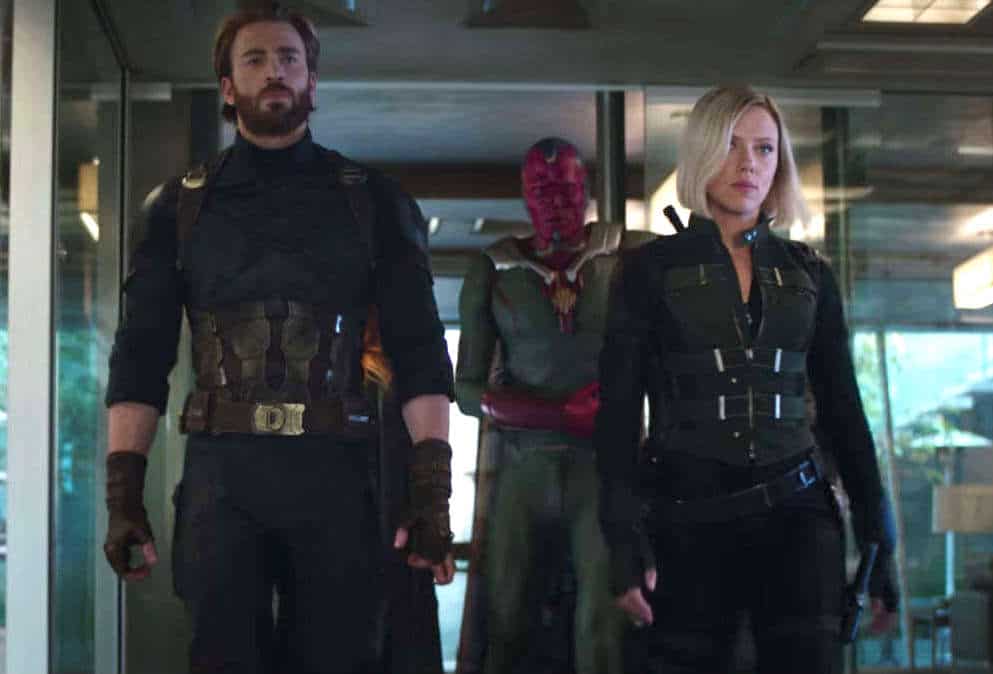 Still, the first casualty of the rush of the pace is coherence. I've seen all 18 of the Marvel Studios movies, some of them thrice (aka the ones starring my husband Captain America) and I still got confused during Infinity War, and as early as the first scene! We begin with a very unsettling whammy for Thor, the god of Thunder. We've apparently jumped forward or sideways from the amusing ending of Thor Ragnarok because the Guardians of the Galaxy are not with Thor and he's already all chained up from some attack we weren't privy to. Thanos promptly kills not one but two of Thor's favorite people before his eyes (Tom Hiddleston's Loki and Idris Elba's Heimdall). The deaths are sick-making because the violence is less visual effects mayhem than painful close-ups on expressive faces. It looks and feels and sounds (ick!) real.
Thanos loves that you're squirming.
Thanos is extra.  Not only does his glove have six stone settings despite gloves generally being more number-five focused, but he towers over and easily defeats the two strongest and biggest Avengers in this same opening scene. The defeat makes Thor angry and vengeful (important plot point!) but The Hulk… well, this messes with the Hulk in ways which would be spoilery to recount. Just about the only thing that isn't extra about Thanos is his skin color. He started the movies with a deep purple hue but somewhere along the line the movies chickened out — and he got desaturated to a greyish lavender.
The color is the only thing less than extra about this supervillain. Josh Brolin is chillingly calm-of-voice while detailing the alien's mass-murdering agenda. Supervillains are usually trying to destroy the planet but with Thanos the entire universe is at stake. Gamora, the green Guardian of the Galaxy (the one who looks like Zoe Saldana if you're having trouble keeping track — there are literally over 70 named characters!) warns anyone that will listen that Thanos will destroy half of all life in the universe "with the snap of his fingers" if he gets his hands on all six stones. He already has three of the Infinity Stones by the end of the first scene (if I recall correctly) and has a clear bead on where the other three are. And off we go!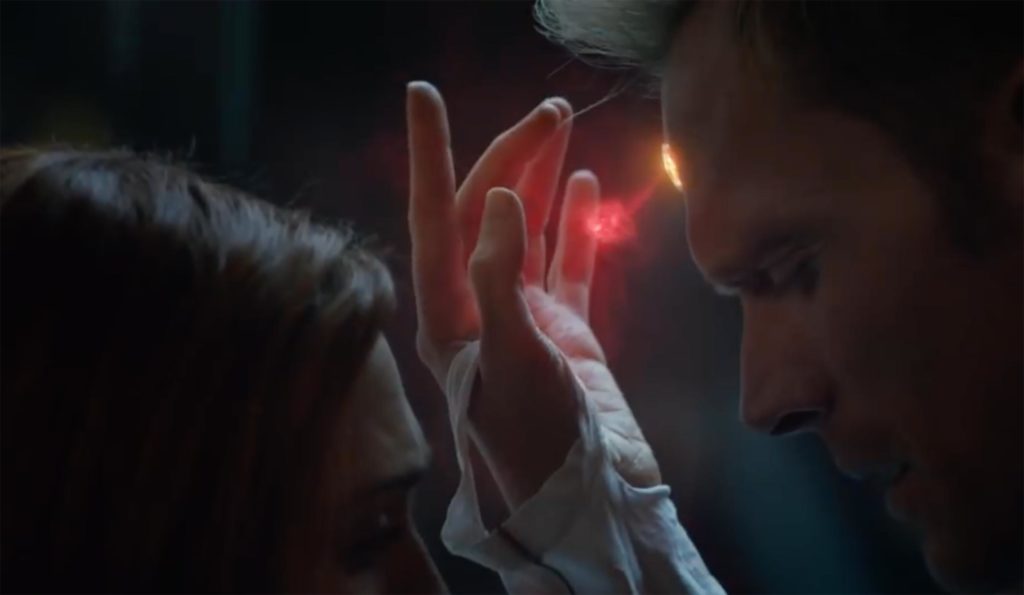 The director brothers Anthony and Joe Russo, who first showed their formidable action chops in Captain America: Winter Soldier  have the difficult task of topping 18 other movies in terms of the intensity, speed, and stakes of the action. They succeed intermittently though the action lacks both the thrilling character focus of Winter Soldier's intense melees and the emotional heft of Civil War's friendly-fire sadness. Infinity War never takes a deep breath — there's no stopping at, say, Hawkeye's family home as in Age of Ultron to recuperate — which isn't necessarily healthy for the movie. More time with The Scarlet Witch and The Vision, whose curious romance factors heavily into the film's story, would surely have granted the movie more rewatchable passion.
But perhaps any success given the supersized expectations and level-of-difficulty of this franchise devouring other franchises is something to cheer on.  And the action, at least, is exciting and varied. My favorite sequence was a Thanos versus Iron Man, Spider-Man, and Doctor Strange throwdown but there's a different configuration for virtually any taste since the movie is less a movie with big action set pieces than one long continuously evolving action set piece with tiny emotional interstitials.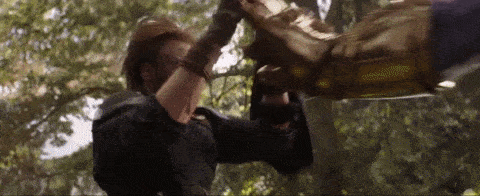 Still, the action works.
Those two opening deaths imbue Infinity War with a feeling of genuine danger and 'anything might happen!' abandon that's usually entirely absent in franchises. Thanos is extra but then so is Avengers Infinity War. If you've kept up at all it shouldn't be a spoiler to tell you that the thrust of the plot centers around Doctor Strange and The Vision, both of whom openly display one of Thanos's must have gems on their costumes. If you love action spectacle the movie is a must see, each scene packed with detailed incident (it's not just mindless punching!), visual verve and even character-serving beats.
Most of the heroes get at least one big quip and one big gif-able action moment despite there being three dozen of them! About five of the characters even get something approaching an emotional arc though let's not start overstating the movie's raison d'etre: it's a spectacle not an acting showcase. That said it's an awfully good thing that the movie has ten years worth of emotional investment to draw from, courtesy of its generally stellar casting choices and the anchoring power of Chris Evans as Captain America (at this point the amount of swoon he causes is its own super power) and Robert Downey Jr as Iron Man. 
Despite all of this and the two and a half hour running time Infinity War is only half a movie!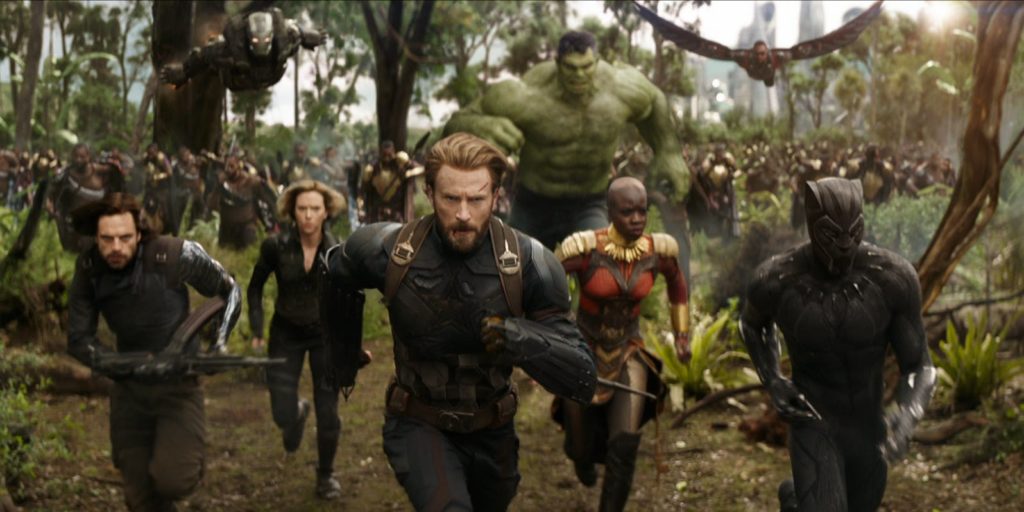 During production it was originally called Infinity War Part 1 but the Part 1 got dropped along the way — probably when Marvel Studios realized that audiences were getting sick of the popular Aughts trend of splitting last films of a franchise in two because 'why earn one billion when you can earn two?!?' But being only half of a movie is a problem. We're meant to be shocked and dismayed at the movie's crazy over-the-top climax with its alarming death toll but I personally ended up feeling cheated. The deaths become so outrageous in number that it was impossible to take them seriously — no movie studio would ever commit suicide by killing off roughly $20 billion dollars worth of their intellectual property — and the drama fizzled away like ash. Part Two (as yet untitled) will obviously be forced to reverse the destruction which makes Part One  feel empty to the core or, at best, like a sick fake out.
Cliffhangers are for serials and TV series, which both use chapter structure more naturally than feature films. Ending a movie at the halfway point is as annoying as cutting off a review in mi