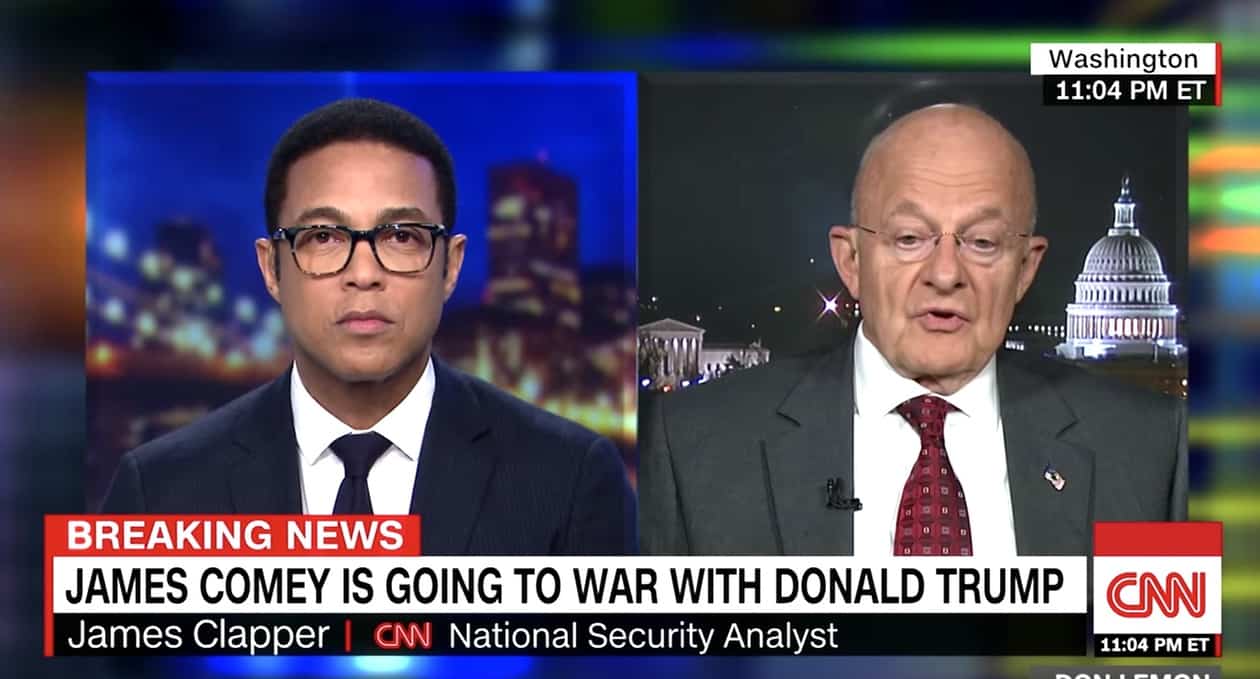 Former Director of National Intelligence James Clapper joined Don Lemon on CNN last night and told Lemon he has "every confidence" that the accounts in Comey's new book are true.
Clapper confirmed an account in Comey's book of his first meeting with Trump, Sean Spicer and Reince Priebus at Trump Tower.
Trump asked only one question, Comey writes: "You found there was no impact on the result, right?"
James R. Clapper Jr., then the director of national intelligence, replied that the intelligence community did no such analysis.
Comey recalls being struck that neither Trump nor his advisers asked about the future Russian threat, nor how the United States might prepare to meet it. Rather, he writes, they focused on "how they could spin what we'd just told them."
With Clapper and then-CIA Director John O. Brennan — both Obama appointees — still in the room, Priebus and other Trump aides strategized for political advantage, Comey writes. The Trump team decided they would emphasize that Russian interference had no impact on the vote — which, Clapper reminded them, the intelligence community had not determined.
Said Clapper to Don Lemon: "Boy he's been consistent about this ever since. It's all about casting doubt on the legitimacy of his election. And dwelling on what threat the Russians are – that may as well have been on another planet."
Lemon and Clapper also discuss the veracity of the pee tape excerpts, and Comey's description of a February 14 meeting in the Oval Office in which he asked Attorney General Jeff Sessions to clear the room so he could speak alone with Comey about the investigation of former national security adviser Michael Flynn.
"I hope you can see your way clear to letting this go, to letting Flynn go," Trump said, according to Comey's account of the meeting, some of which he first shared in Senate testimony last year. "He is a good guy. I hope you can let this go."
Comey writes that he regrets not interrupting Trump to explain that his plea was wrong. He recalls later confronting Sessions, whom he describes as "both overwhelmed and overmatched by the job."
"You can't be kicked out of the room so he can talk to me alone," Comey told Sessions, according to the book. "You have to be between me and the president."
Comey also recounts new observations: "Sessions just cast his eyes down at the table, and they darted quickly back and forth, side to side. He said nothing. I read in his posture and face a message that he would not be able to help me."
Said Clapper: "There are times when the attorney general must give top cover to the director fo the FBI or any of the law enforcement components that are in the Department of Justice. And I think for lots of reasons the attorney general didn't want to touch that with a ten foot pole and I think he probably was relieved that he could skate out of the Oval and not be involved in that conversation."
"I have every confidence that James Comey accurately copied, collected, recounted what went on in those discussions."
Watch: