RICHARD PAINTER. Former GOP White House lawyer running for Al Franken's seat in Minnesota, as a Democrat: "Painter served as chief White House ethics lawyer to President George W. Bush. He's emerged as a top Republican critic of Trump and is a frequent guest on MSNBC and CNN. His entry as a Democrat triggers an endorsement fight and potentially a primary for Democratic Sen. Tina Smith, who was appointed to take Franken's seat after he resigned."
OH MILLENNIALS. University of Utah installs "cry closet" in school library.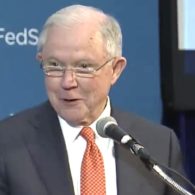 JUSTICE DEPT. Sections on press freedom and racial gerrymandering get deleted from internal manual: "The changes include new sections that underscore Sessions' focus on religious liberty and the Trump administration's efforts to crack down on government leaks — there is new language admonishing prosecutors not to share classified information and directing them to report contacts with the media."
CARL ICAHN. EPA grants waiver to an oil refinery owned by billionaire Carl Icahn: "The waiver enables Icahn's CVR Energy Inc to avoid tens of millions of dollars in costs related to the U.S. Renewable Fuel Standard (RFS) program. The regulation is meant to cut air pollution, reduce petroleum imports and support corn farmers by requiring refiners to mix billions of gallons of biofuels into the nation's gasoline and diesel each year."
SUN TRAPP. Utah gay bar mourns owner, isn't going anywhere: "Goulding, 62, died April 9 from pancreatic cancer. Many of his friends and family turned out at the Sun Trapp, the Salt Lake City gay bar he owned, to pay tribute with stories and remembrances."
ON THE CALENDAR. Trump to attend NRA convention.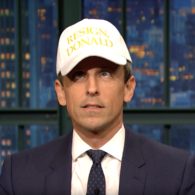 YOU REMEMBERED! Seth Meyers responds to Donald Trump diss.
NYT. Justice Kennedy, please stay: 'Do you want to give your seat to a president whose campaign and administration are under criminal investigation, whose closest aides have been indicted or have pleaded guilty to federal crimes? A president with so little regard for or understanding of the role of the judiciary, the separation of powers and the rule of law? A president who nominated to the federal bench someone who called you a "judicial prostitute"?'
REMEMBER THAT RIDER. Horses can remember if you smiled or frowned the last time they saw you: "Horses prefer to look at negative and threatening sights with their left eye, and positive social stimuli with their right eye. In the study, when they saw a model they had seen frowning earlier, they spent more time looking with their left eye. They also exhibited more stress-related behaviours, like scratching and floor sniffing. In contrast, when they saw a model they had seen smiling earlier, they spent more time looking with their right eye."
DANNY JONES. "Tree Man" exposes his thick branch (wk-unfriendly).
SURFING RECORD OF THE DAY. Brazilian surfer Rodrigo Koxa was just awarded a Guinness World Record for riding this 80-foot wave.
KICKSTARTER OF THE DAY. Gay singer-songwriter Tom Goss is looking for funding for his new album.
MONDAY MUSCLE. Denevin Miranda.