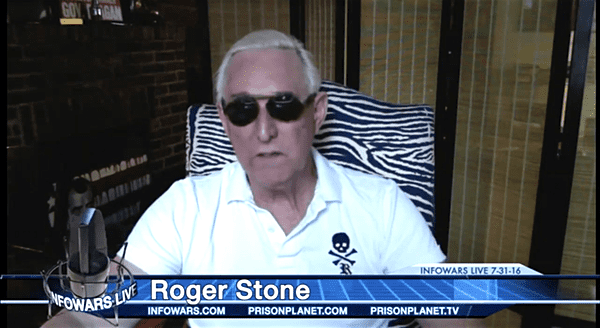 Special Counsel Robert Mueller's teams has stopped at least one wealthy Russian to question and search him at the airport, CNN reports:
A second Russian oligarch was stopped during a recent trip to the US, although it is not clear if he was searched, according to a person briefed on the matter.
Mueller's team has also made an informal voluntary document and interview request to a third Russian oligarch who has not traveled to the US recently.
The situations have one thing in common: Investigators are asking whether wealthy Russians illegally funneled cash donations directly or indirectly into Donald Trump's presidential campaign and inauguration.
Clearly, Mueller is following the money.
In related news, Mueller is reportedly investigating an email sent by Roger Stone to Sam Nunberg:
Roger Stone predicted "devastating" leaks about the Clinton Foundation on the InfoWars radio show the same day he sent an email claiming that he had dined with WikiLeaks founder Julian Assange, according to CNN's KFILE.
On the August 4, 2016, InfoWars show, Stone described the soon-to-appear WikiLeaks disclosures. He also mentioned that he spoke with then-Republican nominee Donald Trump on August 3 — the day before the interview. InfoWars is a fringe media outlet run by Alex Jones, who is known for spreading conspiracy theories.
Stone wrote to former Trump adviser Sam Nunberg on August 4, 2016, that he had dinner with Assange the night before, according to a source familiar with the email exchange. The email was first reported by the Wall Street Journal on Monday. The Journal also reported that special counsel Robert Mueller is examining the exchange.
EXCLUSIVE: Roger Stone's email to Sam Nunberg saying he dined with @JulianAssange pic.twitter.com/bBYY9CPcWe

— Trey Yingst (@TreyYingst) April 4, 2018
Earlier today, the WaPo reported that Trump's team has been told he's not a criminal target of Mueller's investigation but that they suspect he's a subject.