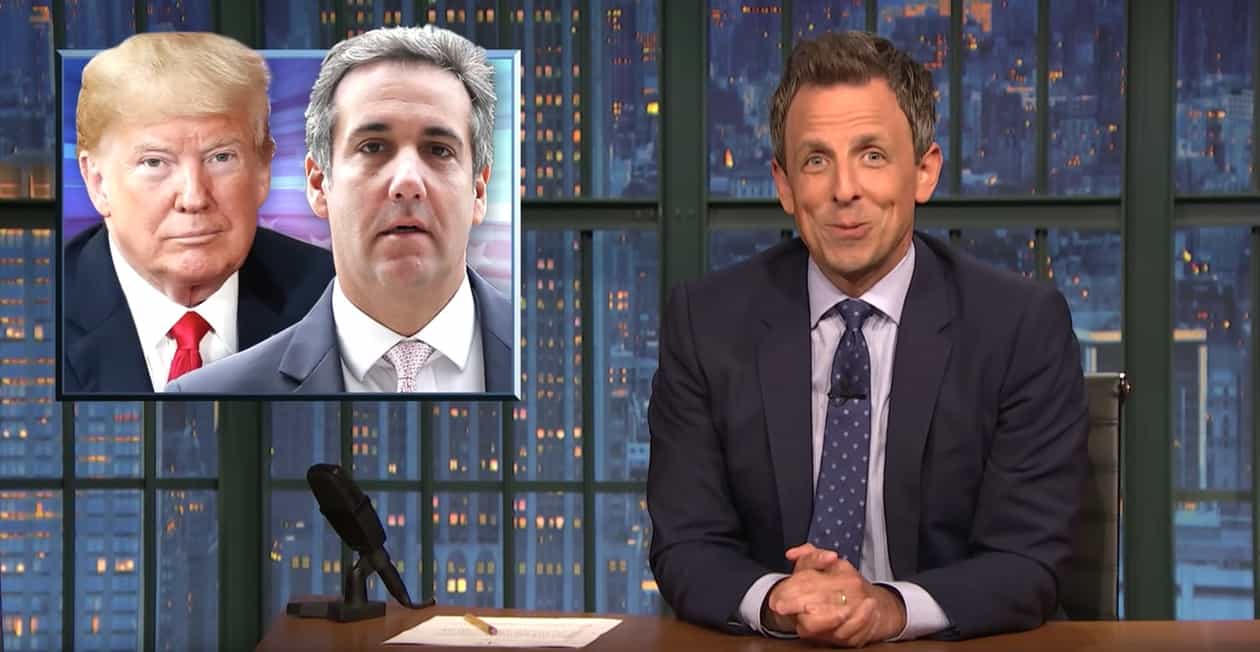 Seth Meyers last night explored Donald Trump's obsession with being secretly recorded by everyone – Putin, the FBI, Obama, but ended up getting it from the guy he never expected.
But first Meyers reviewed Trump's ALL-CAPS threat to the Iranian president: "The president is facing an intense political backlash over his press conference last week with Vladimir Putin, his administration still has thousands of migrant children jailed and separated from their parents, and  his personal fixer, Michael Cohen, might be cooperating with federal investigators. So naturally, Trump has decided the appropriate response is to threaten a war with Iran."
Meyers then displayed Trump's tweet:
https://twitter.com/realDonaldTrump/status/1021234525626609666
Quipped Meyers "Wow, you can take the crazy old man out of Queens, but you can't stop him from yelling at foreigners. Also, you don't get to say "BE CAUTIOUS" when you're tweeting in all-caps."
Meyers then turned to Trump's ongoing paranoia that he's being spied on.
Said Meyers: "Trump's obsession with being secretly taped is not new. It's something he's been fixated on throughout his presidency. Like when he falsely accused President Obama of having his wires tapped, or when he tweeted that James Comey better hope there are no tapes of our conversation. It's almost like he got secretly taped at some point, and waiting for that tape to come out is slowly driving him insane. And he tries not to think about that tape, but for whatever reason every time he pees he can't get it out of his mind."
Added Meyers: "Even Trump's explanations for his bizarre comments about secret tapes are themselves incriminating like when he was asked about his Comey tweet, and rambled like he was under police interrogation."
He continued: "So Trump is obsessed with being secretly taped, but it turns out that it wasn't Russia or the FBI he should be worried about, it was his own lawyer. Everyone from his past is coming back to haunt him. If he ever goes on trial, it's going to look like the Seinfeld finale, but instead of the Soup Nazi, there will be actual Nazis."
Watch: