BAD LIP READING OF THE DAY. Sarah Huckabee Sanders and the White House press briefing.
FIT FOR A QUEEN. The line-up of performers for Aretha Franklin's funeral.
DUNCAN HUNTER. Anti-gay GOP Rep. blames wife for misused campaign expenses: "She was also the campaign manager, so whatever she did that'll be looked at too, I'm sure. But I didn't do it. I didn't spend any money illegally. My campaign did make mistakes. There was money spent on things not by me but by the campaign, and I paid that back before my last election."
MONTANA. GOP state House candidate misgenders Democratic primary winner:  'In a recent interview with the Missoula Independent, Rodney Garcia, the Republican candidate for Montana's 52nd State House District, repeatedly misgendered Democratic primary winner Amelia Marquez, a Latina transgender woman affiliated with the Democratic Socialists of America. According to Indy reporters Derek Brouwer and Susan Elizabeth Shepard, Garcia "repeatedly referred to Marquez by her birth name," claiming—in his own words—that he did so as a display of "respect and courtesy."'
NEW JERSEY. Monmouth Freeholders accuse John Curley of using homophobic slur.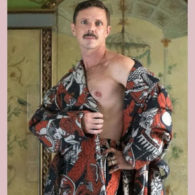 ON THE RAG. This week on the gay magazines.
ROCKETMAN. Elton John biopic release date pushed back by two weeks: "Paramount said today that Rocketman now will launch on May 31, two weeks later than originally scheduled. In its new slot, the Elton John biopic starring Taron Egerton will go up against Warner Bros. Godzilla: King of the Monsters and an Untitled Blumhouse Project from Universal."
GUEST STARS. Matt Bomer and Adam Rippon to guest star on Will & Grace.
MELBOURNE. Man admits extorting $1300 from a Grindr user as blackmail for not telling his girlfriend: "Timothy Ruge, 34, appeared in Melbourne Magistrates Court on Wednesday, where he pleaded guilty to making an unwarranted demand for money with menaces."
CATHOLIC CONFERENCE. Church hears plea from priest to welcome gay members: "At the first major speech on the issue at the World Meeting of Families, which is organized by the Vatican every three years and is being held in Dublin this year, U.S. Jesuit priest James Martin told delegates that excluding lesbian, gay, bisexual and transgender Catholics violated the teachings of Jesus Christ."
NEW TUNES OF THE DAY. Nick Jonas, Kim Petras, and Jason Derulo + David Guetta.
FRIDAY FLASH. Chaniel Andran.