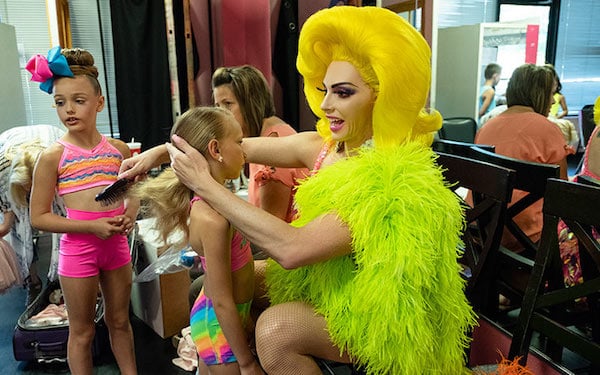 You might think you know the tongue-popping, mirror-mugging, drop-dead-gorgeous drag icon Alyssa Edwards, but get ready to see the RuPaul's Drag Race favorite in a whole new light.
Premiering today, Netflix's latest feel-good docu-series, Dancing Queen, chronicles the adventures of Alyssa (birthname Justin Johnson) living and loving in her home state of Texas.
As an international drag sensation and owner of Beyond Belief Dance Company, Alyssa puts a whole new spin on the idea of work-life balance. She appears in and out of drag throughout the show, dealing with dating, difficult dance moms and darling, little aspiring Astaires with her signature humor and heart.
That tenderness is a huge part of what makes Dancing Queen such an enjoyable binge. The latest in a trend of feel-good reality series, Dancing Queen gives us the silly, ditzy Alyssa we know and love, but it also shows her passion and dedication for teaching.
Ahead of the show's release, we spoke with Alyssa about why the series is so special to her.
Check out our interview below.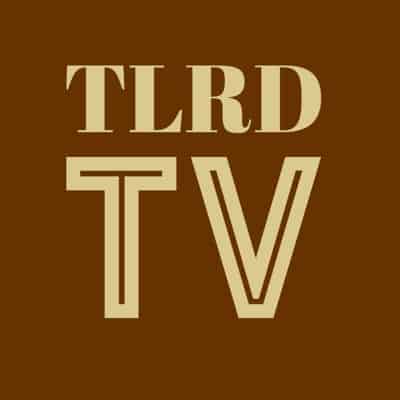 What inspired you to share this part of your life now?
I think that it wasn't necessarily an inspiration. I think it's timing, and ultimately my destiny. If this would've been five years ago, or even 10 years from now, what is important to me the most is that people hopefully are inspired by this triumphant story and journey.
It's not just your story, it's also the story of your students.
When I leave the studio, I'm still a teacher and choreographer. It's always in my head. I would say 100 percent of my life is Beyond Belief Dance Company in some way, some form or some idea. These kids bring so much joy and passion and raw emotion, they complete my being.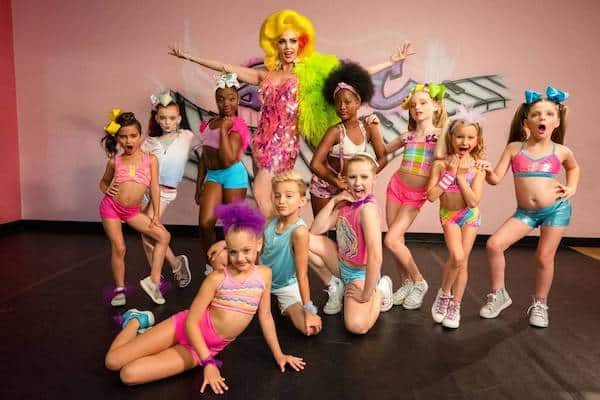 I think people might rush to compare the show to Lifetime's reality series, Dance Moms. Tell me about your dance moms and how they factor into the story.
Here's the thing, what's going to be comparable is this is a competitive sport with competitive parents. I think the biggest difference is this is not a produced reality. This is docu-style, and what you see are actual events, rather than a set-up scene. I think what I do is so very different. My studio is artistically-driven by sharing our life story and feelings, rather than just 'here's the music, here's some eight counts, let's get on stage.' That's not it for me. If we don't win, it's not going to be a fight. Because the win is not just defined by a trophy. For us the win is we're there. Are we putting our best foot forward? Was the piece delivered well? Was everybody focused? Did we have teamwork to make the dream work?
To give you a little bit more about the moms, I like a competitive a mom. Or parent! Not only do I have moms, I have dads. It lets me know they're involved and that they're there to support. My studio is not just a recreational dance studio. It's more of a company, a goal-oriented company where we all celebrate the idea of being a better version of ourselves than we were the day before.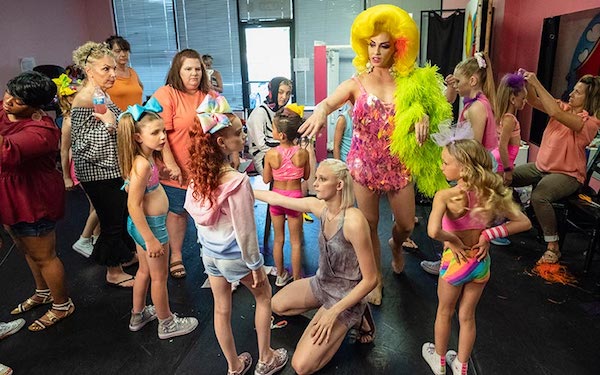 One of the things I love about the show is the overwhelming feeling of positivity. It's a trend we're seeing with other Netflix shows like Nailed It and the Queer Eye reboot. What do you think is fueling that trend?
We live in a very interesting world, especially now at the moment. So many tragedies are happening left and right. You flip on the television, and you see these horrific events in these schools. It's important for kids —and not even just kids, because this show is sophisticated enough for adults — to see something and go, "That inspired me, that motivated me and I can be like that too." It is a hopeful show. A lot of heart and passion was poured into this.
You're very forthcoming with your personal life on the show. We even see you doing some dating in the early episodes. Was there anything you were nervous to share?
I think so, because I've created this character and this image that you all see. You've all seen me as Alyssa. I've tried to protect that by not being as vulnerable and open. I've created these barricades, these walls that are so fierce that nothing or nobody can get through or break down. I've also kind of put barbed wire around my heart to protect it. Maybe that stems from my childhood, or things I had to overcome within. There were some things that I just told myself when I agreed to do this project, "Don't overthink, don't overanalyze. Just be yourself, genuinely, authentically and unapologetically."
I feel like you guys are getting 100 percent of me rather than just the Alyssa Edwards character you see on stage … I've always been real private with my dating life, so maybe I was a little hesitant of being judged, but also it's an important part of who I am. There's another little baby Justin somewhere else in the world, and we are at a time when it's important to stand up with a strong backbone. At this point, in this time, be yourself, be proud of who you are. Be strong. If I have a platform to stand on, let me just crank this microphone on high and use it to the best of my ability.
What is something viewers will be surprised to learn about Alyssa and something they'll be surprised to learn about Justin?
Hmmm … For Alyssa, the attention to detail, the amount of work that is required. The tape! Just how much is involved in the process. The process! And how much of a business lady Alyssa is. That's a businesswoman. Alyssa's like the Kris Jenner of drag, the ultimate momager.
There's so much they're going to learn about me. The man behind the mask, behind the curtain, behind the doors of my home, the studio doors, my love life. This is almost like introducing the world to a new character, a whole new person.
Dancing Queen premieres today on Netflix.