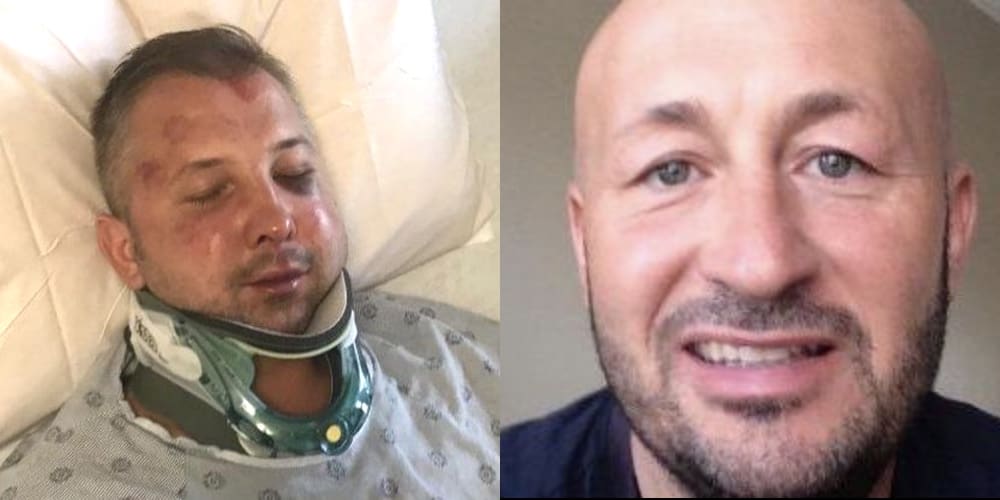 The Chicago Police Department is accused of protecting a police officer under criminal investigation for the brutal beating of a gay couple outside a bar in September.
Sergeant Eric Elkins (above, right), a 19-year veteran of the department, and his boyfriend, a police officer in the western suburb of Oak Park, have been identified in line-ups and implicated in the beating by two friends arrested as participants at the time of the attack, which sent Thomas Stacha (above, left) and his partner of 14 years John Sherwood, to the hospital. All four assailants are named in a personal injury lawsuit brought by the couple's attorney Timothy Cavanagh.
But no criminal charges have been brought against Elkins a month after the attack, which had multiple eyewitnesses, the Chicago Tribune reports.
Sherwood sustained compound fractures to the leg and Stacha had broken cheekbones and a perforated trachea among other injuries after the attack, which occurred following an altercation at @mosphere, a dance club in Andersonville. Check out a video interview with the couple here.
Said Cavanaugh: "It's a code of silence. [The Chicago Police] protect their own. They had probable cause to arrest (Elkins) weeks ago. But because it's a Chicago police sergeant, nothing."
The Cook County state's attorney declined to comment for the Tribune's article.
Elkins has been on desk duty for two years pending the outcome of one of two separate criminal cases in which he has been charged involving sexual encounters with teen boys.
The Tribune reports: "As a young patrolman in 2003, he was charged with sexually abusing a male student while moonlighting as a security guard at a North Side high school, records show. He was later acquitted in a bench trial by a Cook County judge who said there were too many holes in the victim's testimony. Elkins remained on the force and was promoted to sergeant in 2007. Two years ago, Elkins was charged in Michigan on allegations he sexually abused a teen at a family party the year earlier, records show. But he pleaded guilty in August 2016 to a misdemeanor battery count in exchange for probation and a small fine. More than two years later, he remains on paid desk duty — earning a $105,000-a-year salary — pending the outcome of a disciplinary case stemming from the incident."
The Tribune explains that in the former case, Elkins was acquitted even though "the teen described for investigators the car Elkins drove, provided his personal cellphone number and drew a diagram of Elkins' apartment from memory."
According to the paper, "Cook County Judge Kenneth Wadas acquitted the officer on all counts, saying the teen did not have a good recollection of the abuse itself and that no physical evidence corroborated it."
In the latter case, in which Elkins was accused of fondling four teen boys at a family reunion in 2015, Elkins was "ordered to enroll in substance abuse counseling and to avoid alcohol and establishments that serve alcohol during his probation."
Read the Tribune's full report here.
WLS covered the  lawsuit.