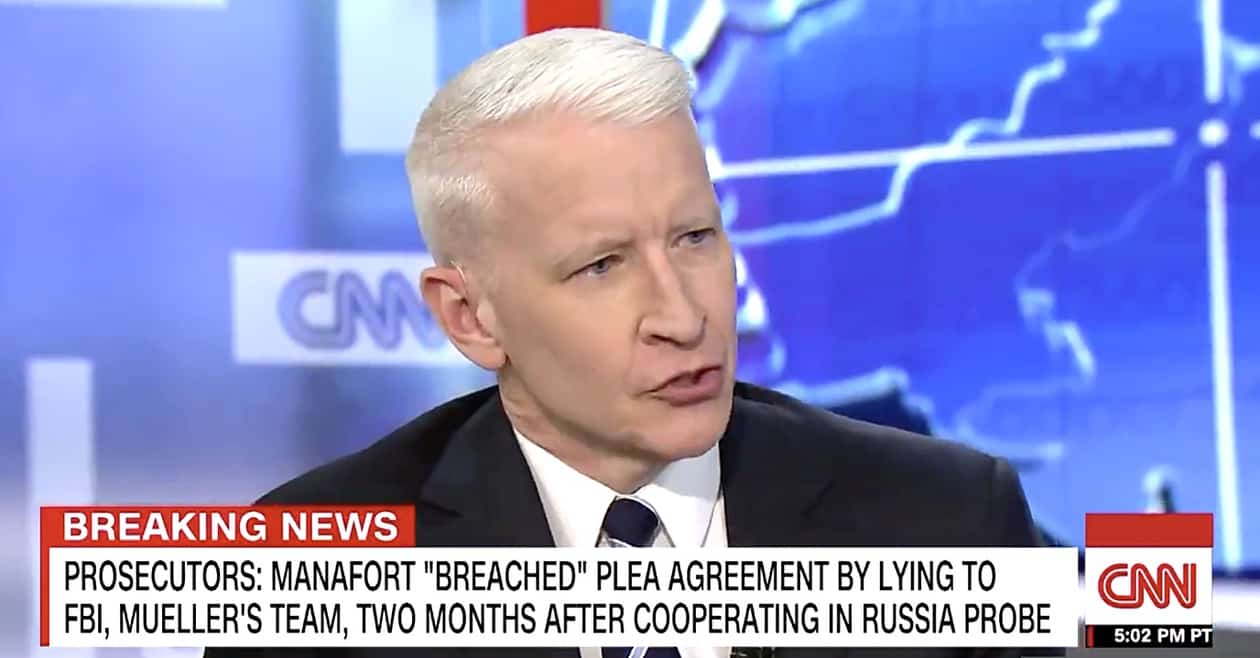 "I don't know exactly how to phrase this question, but how frickin' stupid is this guy?", asked Anderson Cooper of Paul Manafort's reported breach of his Robert Mueller plea deal. A few of Anderson's pundits had answers.
"Jeff, I don't know exactly how to phrase this question, but how frickin' stupid is this guy?" – @andersoncooper

"Very freaking stupid." – @JeffreyToobin

Cooper and Toobin react to reports Paul Manafort "breached" his plea agreement by lying to the FBIhttps://t.co/OWIcNGw8B9 pic.twitter.com/MAllBNBDvS

— Anderson Cooper 360° (@AC360) November 27, 2018
Said CNN legal analyst Jeffrey Toobin: "Very frickin' stupid. To get a cooperation agreement and the chance for a lower sentence was very important to him. Especially since he's 70 years old. To throw that away, to throw that benefit away, by continuing to lie to the special counsel's office is incredibly reckless and self-defeating."
David Gergen had different thoughts: "Paul Manafort is not stupid. I would assume that if he's lying, he's doing it because there is something very big he's trying to hide from the prosecutors. Very big. We don't know what that is, at least we don't on the outside here. But I would also assume that, while his chances of going to jail for a much longer time have definitely gone up, it is also possible that his chances of getting a pardon have also gone up, if he's doing something to serve the interests of those around the president."
However, as former federal prosecutor Renato Mariotti explains here, "offering anything of value to someone in exchange for the commission of a federal crime is itself a federal crime."
And MSNBC legal analyst Danny Cevallos believes Mueller will uses Manafort's breach of his plea deal to get past Trump's claims of executive privilege.
Said Cevallos: 'At some point, Manafort will be sentenced, and at that point there will be a prolonged hearing where there will be witnesses called and information revealed and we will learn that information. Because the sentencing will be open to the public and people will be able to hear what exactly Manafort did and did not do…If Mueller's team files a public document outlining his lies, then we will know what those lies were. Paul Manafort will take every opportunity to dispute that and have his lawyers produce evidence that he did not lie and that he was showing his recollection to the best of his ability."
Watch:
https://www.youtube.com/watch?v=-wHsfMGahUA
And Watergate prosecutors Jill Wine-Banks and Nick Ackerman believe that Mueller's case for obstruction is getting stronger every day.
Said Chris Hayes: "I learned from both of you, Nixon was dangling pardons all over the place back in the day. And it was part of the obstruction case."