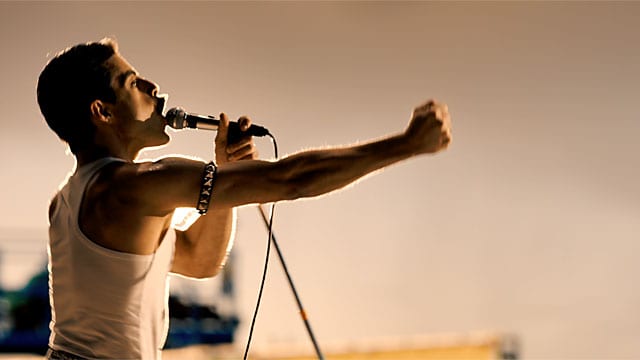 'C'mon Gay Shame!' That's what we imagine the movies are shouting at us right now, spirits ablaze and fingers snapping. Though it's surely a coincidence, the Freddie Mercury biopic Bohemian Rhapsody ('yaaas, Queen'?) and the gay conversion therapy drama Boy Erased have arrived simultaneously. This accidental double feature is a double closeted whammy.
It'd be wonderful to report that they're both worth seeing, but only one might rock you. And it isn't the one with the famous "we will we will rock you" chorus. But more on Boy Erased, later, since it's just beginning a platform run on 5 screens and will be expanding as awards season heats up. Bohemian Rhapsody, on the other hand, is opening wide on 4,000 screens and hoping to fill them like Queen filled stadiums…
Just before the bulk of Bohemian Rhapsody kicks off we follow Freddie Mercury (Rami Malek) on a long walk behind the scenes of Live-Aid where he's about to perform a famous set with the band. Before he hits the stage in his white tank top and tight tight jeans, he's hopping up and down, a born performer pumping himself up for what he knows is a crucial legacy moment.
Live-Aid, the historic 1985 concert for famine relief in Africa, isn't a bad choice as framing devices go even if it fudges with the actual timetable of Mercury's life. Live-Aid carries its own mythic weight in the world's collective consciousness and it was also arguably the last time Queen truly reigned. The band would release three more albums with Mercury and go on one more tour before Mercury's death from AIDS complications, but they would never again be as popular as they'd been from the mid '70s through 1984 (their last top 40 single in the U.S. was "Radio Ga Ga" released in 1984).  
Just as Freddie gets pumped up, a cold shower for the audience. We retreat back in time, to begin a dull Behind the Music-style narrative. You know the kind. The film charts the band's humble beginnings, how Freddie Mercury came to join them, their rise from rags to riches, the recording that made them legendary (1975's album "A Night at the Opera"), and their subsequent flameout when personal addictions and artistic differences got in the way. The rise and fall of famous musicians is one of cinema's most familiar plots.
What Bohemian Rhapsody has going for it, in theory, is that its central figure is Freddie Mercury, one of rock's coolest and queerest legends. Surely his biopic will be different!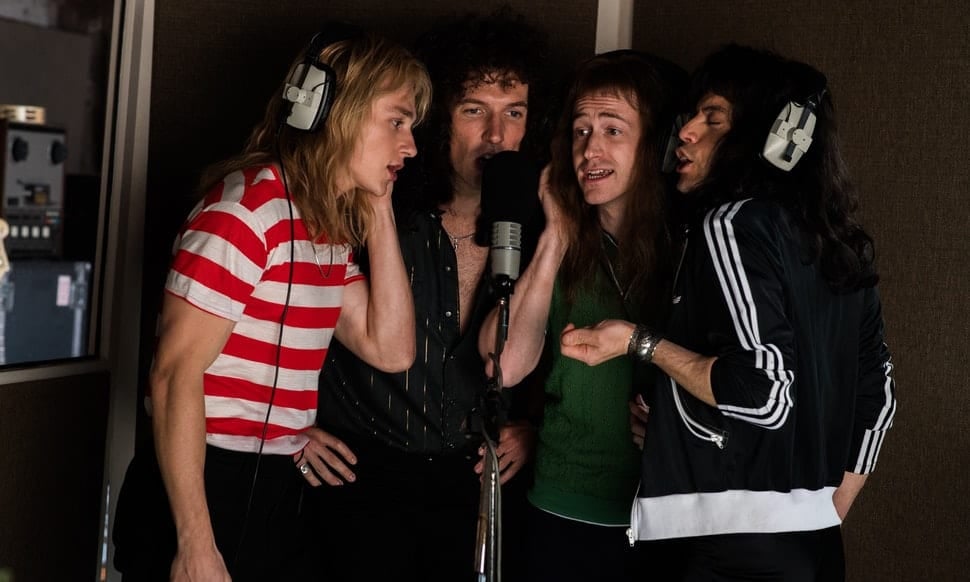 Why be different when you can blend in, this particular movie seems to say, completely missing the actual text of the screenplay which tells us over and over that Queen only succeeded due to originality and experimentation.
Though it's unwise to let behind the scenes rumors define a movie for you — plenty of movie classics have had troubled shoots — Bohemian Rhapsody bears visible scars from its own origin story. If you'll recall Bryan Singer mysteriously disappeared during the shoot, leaving the cinematography to take over and Singer was later fired. The movie was cobbled together from what he shot, as well as the work of replacement director Dexter Fletcher (who is keeping the gay musician biopic thing going by directing the Elton John musical Rocketman next)  Throughout the movie there are strange Frankenstein editing choices, and scenes that don't play well or needed a follow up scene to land. Two particularly messy scenes involve a highly distracting Mike Myers in heavy makeup as a grumpy record executive who doesn't "get" Queen.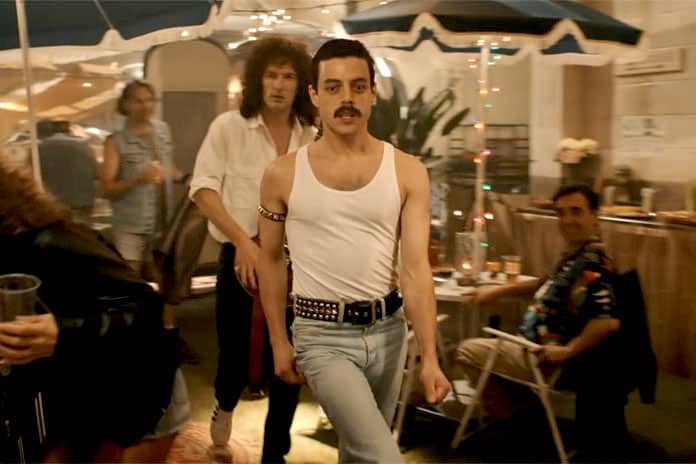 As for Malek, he's trying hard to make the wobbling picture look like it's dancing, with flamboyant swagger, and defiant quipping. Malek is less successful at imbuing the rusty machine-like movie with soul. The performance becomes repetitive with so little substance and nuance in its ideas about who this iconic musician was.
Most unfortunate of all is the treatment of Mercury's sexual life. You'd never know a gay man directed the film because it plays like a film from another era (and I don't mean in the "period piece" sense). We spend a lot of time watching Mercury pine for his ex girlfriend Mary (Lucy Boynton) and we didn't need to; a little goes a long way with Malek's memorably huge sad eyes.
Whenever other gay men are involved the movie is all seedy asides, anonymous unseen trysts. One early scene after the band is semi-successful has the gall to suggest that Mercury is inexperienced with men hitting on him, as if he hadn't yet been 'corrupted' by the gay. Sometimes the movie even deploys 'scary' lighting for the gays, red filters or shadowy vibes; there might as well be a neon "SIN" sign lighting up in case you don't get the picture that gay sex is trouble!
I'm not personally one of those gay men who hates every depiction of problematic gays. Gay villains can be a lot of campy or stylish fun, for example, and movies and television would be poorer if gay characters were only noble. But Bohemian Rhapsody only allows for two types of gay men: the tragic lonely queen (Mercury) and the serpentine predator (Allen Leech from Downton Abbey plays a music executive who is big trouble once he's slithered his way into Freddie's bed). There's arguably an attempt at course correction with the well-adjusted gay in Jim Hutton (Aaron McCusker), Mercury's real life final boyfriend who stayed with him for the rest of his life, but even this subplot is inadvertently sex-negative since it's depicted as so pure and chaste.
Thank god for the music then. The recounting of the experimental recording of "Bohemian Rhapsody" and the brainstorming for "We Will Rock You" are both popcorn highlights: chewy and yummy with no nutritional value.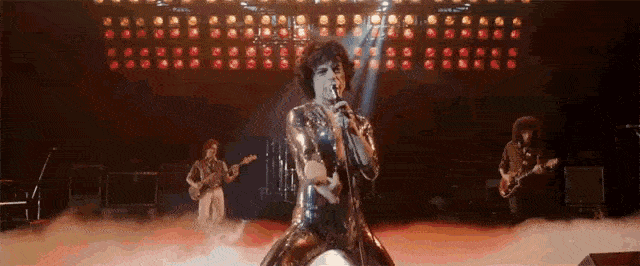 The concert sequences, Live-Aid included, are the single best reason to see Bohemian Rhapsody.
If you love Queen it's inarguably pleasurable to hear the parade of hits again (Malek lipsynchs so it's Freddie's vocals you're always hearing), and see recreations of famous concerts with their stadium-shaking foot-stomping power. In fact the movie might well have worked had it been as experimentally daring as "Bohemian Rhapsody" itself. What would it have looked like, to toss off one thought experiment, as just a concert movie, with all the drama woven into the performances and behind the scenes moments on tour? Or more condensed to just the writing and release of "A Night at the Opera" letting the seeds of common knowledge about what would later befall Mercury to bloom in the imagination rather than being lazily dramatized?
The point is this: Mercury was far too unique a star to be saddled with a generic biopic. A proper cinematic tribute would require 'a kind of magic,' to use another Queen title, that this disjointed, uncomfortably gay picture doesn't even attempt to find.