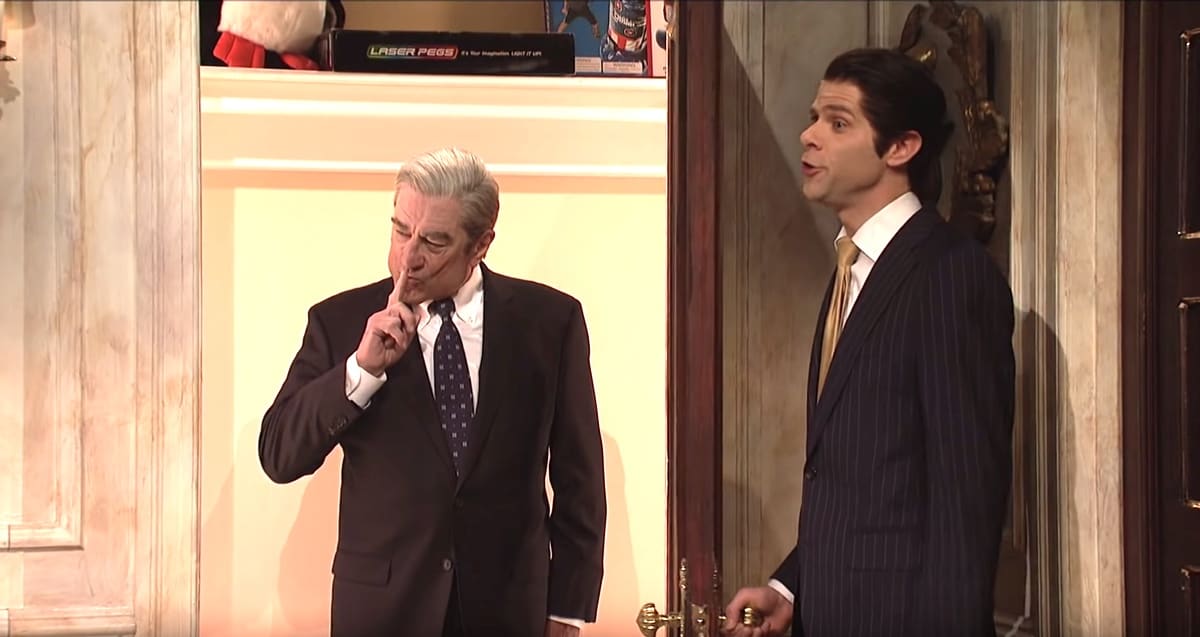 Saturday Night Live opened on Mikey Day's Donald Trump Jr. attempting to comfort a very scared Eric Trump (Alex Moffatt), who was certain that there was a bogeyman in his closet.
"Have you been watching the news again," asked Day's Donald Jr. "You can't watch that stuff, bud. It's too grown up."
Moffatt's Eric then shared his concern that his brother was going to get indicted. Day's Donald Jr. assured him that he shouldn't worry, before reading him "The Night Before Christmas."
As he read the line, "not a creature was stirring, not even a mouse," the walls began to creak eerily.
"That's just the cheap steel dad uses to build his tower. Look buddy, nothing in the closet," said Day's Donald Jr., opening the closet door to reveal a crouched Robert Mueller (Robert De Niro) urging Eric to stay silent. "See," added Day's Donald Jr., oblivious to the Special Counsel. "Nothing's in your closet."
"Robert Mueller's in there," insisted Moffatt's Eric.
"Nobody likes a fibber," scolded Day's Donald Jr., exiting the room.
And then the Trump bogeyman emerged to assured Moffatt's Eric.
"Don't be scared, it's just me, Robert Mueller. Your dad's friend from work," said De Niro, taking the Trump son through the list of his dad's associates who have been indicted. De Niro's Mueller later added, "I just came here to let you know that whatever happens, America is gonna be just fine. This is a country full of good people."
"Yeah, good people. Like my dad," insisted Moffatt's Eric.
"Let's put a pin in that," replied De Niro's Mueller.
"People say you're the worst thing to ever happen to my dad," responded Moffatt's Eric.
Replied Mueller: "No, Eric. Getting elected president was the worst thing to ever happen to your dad."