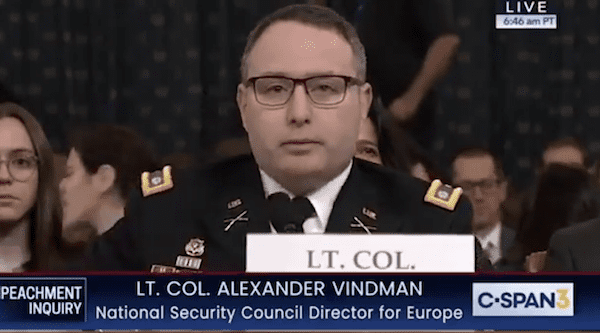 President Donald Trump has started putting "heads on pikes."
Lt. Col. Alexander Vindman, who testified against Trump in his impeachment trial, was removed from his job and escorted out of the White House on Friday afternoon, NBC News reports.
"There is no question in the mind of any American why this man's job is over, why this country now has one less soldier serving it at the White House," Vindman's attorney, David Pressman, said in a statement. "The truth has cost LTC Alexander Vindman his job, his career, and his privacy."
Pressman added that "the most powerful man in the world — buoyed by the silent, the pliable, and the complicit" had "decided to exact revenge" on Vindman.
Vindman, the top Ukraine expert on the National Security Council, is a Purple Heart recipient who was wounded by an IED in Iraq in 2004. He testified under subpoena after listening in, as part of his official duties, on Trump's July 25 call with Ukraine President Volodomyr Zelenskiy.
Vindman's twin brother, Lt. Col. Yevgeny Vindman, was also removed from his position at the White House. They have both reportedly been reassigned to the defense department.
Within hours after Vindman's removal, #VindmanDeservesBetter and #VindmanIsAHero were the top trending topics on Twitter.