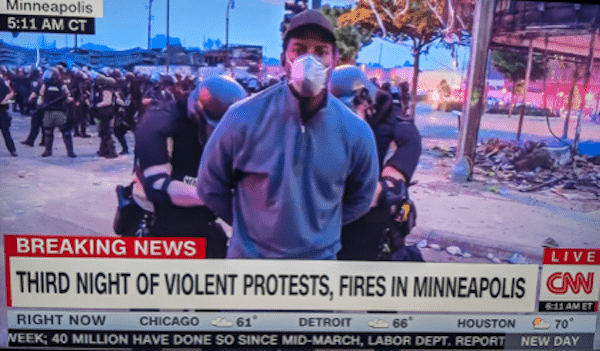 In a surreal moment, Minnesota state police arrested a CNN crew during a live broadcast on the streets of Minneapolis on Friday morning.
The CNN crew was led by reporter Omar Jimenez, who is black.
Jiminez had told the officers as they approached that the crew was willing to relocate wherever necessary. Also handcuffed were CNN producer Bill Kirkos and photojournalist Leonel Mendez.
The crew was covering ongoing protests over the killing by police of unarmed black man George Floyd.
A short time later, CNN issued a statement saying: "A CNN reporter & his production team were arrested this morning in Minneapolis for doing their jobs, despite identifying themselves – a clear violation of their First Amendment rights. The authorities in Minnesota, incl. the Governor, must release the 3 CNN employees immediately."
About an hour after the arrests, Democratic Gov. Tim Walz reportedly apologized and told CNN he was working to have the crew released.
UPDATE, 7:40 a.m. Eastern: After about 90 minutes in custody, Jimenez and his crew have been released. Here's his account of his arrest:
Police claim they've been arrested because the reporter and producers were asked to move and they didn't. There's no evidence of that on the broadcast. pic.twitter.com/GajZqA1rlo

— Tyson Whelan (@tyson_whelan) May 29, 2020