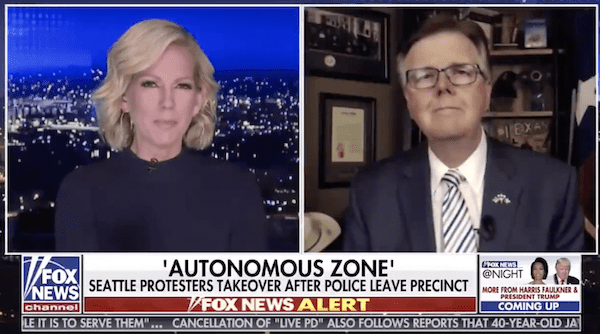 Texas Lt. Gov. Dan Patrick on Thursday night compared protesters who've established a police-free "autonomous zone" in Seattle to the terrorist group ISIS.
Fox News host Shannon Beam asked Patrick, "Is it a bit much, are you overstating it by saying people's lives will be in danger because of activists like what we're seeing in Seattle?"
"When you take out law enforcement, when you let the mob control your life, this is no different than ISIS taking over cities in the Middle East," Patrick responded. "These are people with guns threatening people who may or may not agree with them, and this Kumbaya idiocy…"
"Well, they're not beheading people or throwing them off buildings," Beam said.
"They're not beheading people of throwing them off buildings, but they have taken away their freedom, they've taken away their liberty," Patrick said. "They are now apparently charging a tax or a fee for protection like the mob board or a gang would.
"So Shannon, is this the way you want to live?" Patrick added. "Is this the way anyone in America wants to live, one day they wake up and the police are gone and some guy with a gun out front is telling them, hey, show me your papers? This would never stand in any state run by a Republican governor. Never stand."
Fox News and other right-wing outlets have been pushing the narrative that the Seattle autonomous zone is occupied by armed militants from Antifa. But numerous stories have debunked those claims.
CNN reports: It is true that demonstrators have occupied a small, six-square block section of Seattle and designated it an "autonomous zone." And it is true that, after clashes with police, a precinct was boarded up and evacuated in an attempt to deescalate the situation. But claims that bands of militant Antifa members are roving the Seattle streets appear to be grossly exaggerated in right-wing media. In fact, according to the Seattle mayor's office, city officials haven't seen any evidence to indicate armed members of Antifa are even on the ground. … Local news channel KOMO-TV, a CNN affiliate, reported that demonstrations remained peaceful on Wednesday, and featured music, dancing, and a movie screening.The New York Times, which had a reporter on the ground, described the occupied area as "part street festival, part commune."