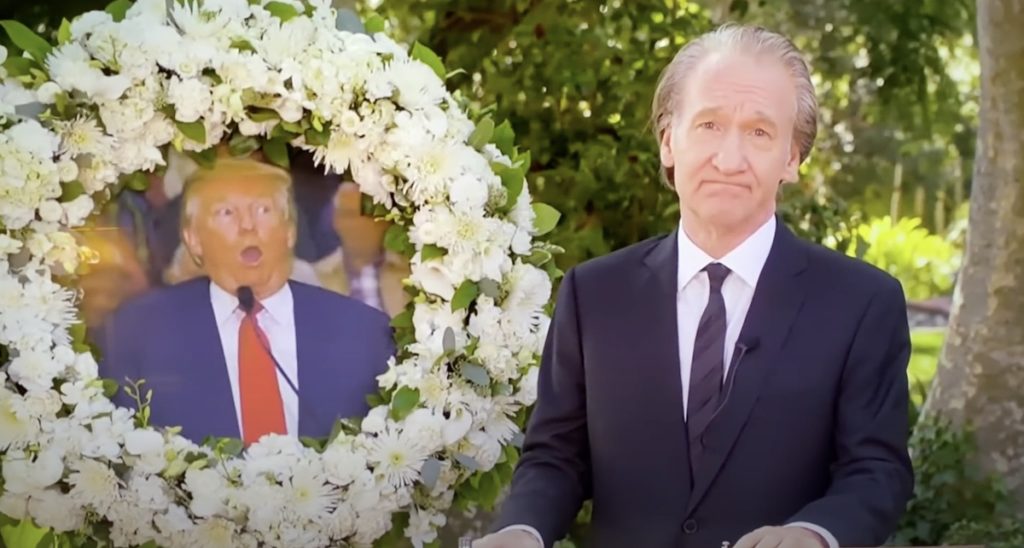 Donald Trump came for Bill Maher on Wednesday, apparently stung by a mock eulogy for the president the Real Time host delivered last Friday night.
ICYMI: Bill Maher Delivers Eulogy for Trump: 'He Died as He Lived: Wearing Makeup and Lying in Front of All of Us' — WATCH
Tweeted Trump: "Watched @billmaher last week for the first time in a long time. He's totally SHOT, looks terrible, exhausted, gaunt, and weak. If there was ever a good reason for no shutdown, check out this jerk. He never had much going for him, but whatever he did have is missing in action!"
Trump tweeted in conjunction with a second, unrelated tweet, warning that "suburban housewives" would not be protected by Biden from low income housing (Trumpspeak: black people) moving into their neighborhoods.
In Maher's introduction of the biting eulogy, he noted that the families of late high-profile lawmakers and Republicans like John McCain, Barbara Bush, Elijah Cummings, John Dingell, and John Lewis have all made special requests that Trump not come to their funerals. Asked Maher: "What kind of spectacular prick do you have to be that everyone's last request is 'make sure that a**hole isn't at my funeral?'"
Check out the full clip: