Published by
BANG Showbiz English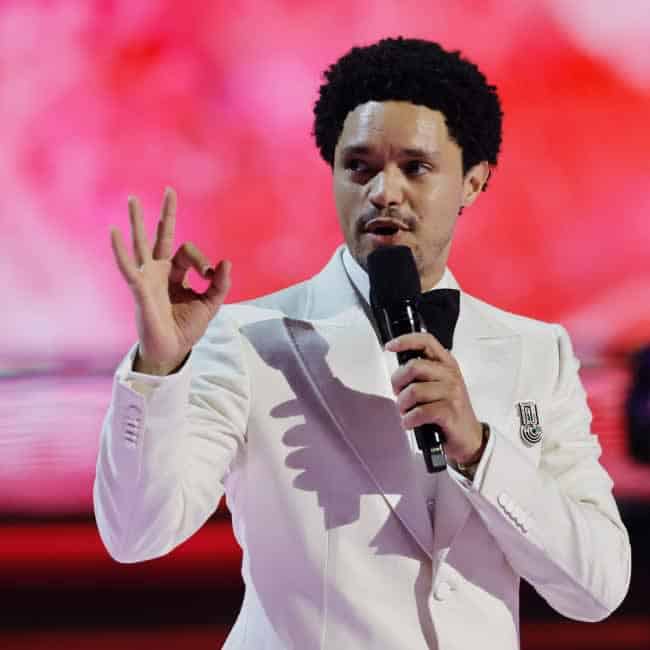 Trevor Noah poked fun at Prince Harry's frostbitten penis during the Grammy Awards on Sunday (05.02.23).
The 38-year-old star couldn't resist mocking the prince's intimate revelation about his icy agony – which he explained in his memoir 'Spare' happened during a 2011 charity walk at the North Pole – when he introduced James Corden to the stage.
He quipped: "James Corden is a 12-time Emmy winner and the host of 'The Late Late Show.'
"He's also living proof that a man can move from London to L.A. and not tell everyone about his frostbitten penis."
Earlier in the evening, the former 'Daily Show' presenter had mingled with the A-list crowd at their tables during his opening monologue.
He joked about Harry Styles' flamboyant fashion sense when celebrating the 'As It Was' hitmaker's six nominations.
He quipped: "What can you say about this man that hasn't been said? Incredible album. Mind-blowing tour. A 15-night run at MSG and the Forum.
"Women throw their panties at this man, then he puts them on, and he looks better in them than they do.
"Easily the world's sexiest man. Are you kidding? There's no competition. Sex symbol of the globe, especially now that they've killed off the green M+M. No competition."
He then praised Kendrick Lamar's album 'Mr Morale + the Big Steppers', describing the record as a "therapy session that earned him multiple Grammy nominations."
He added: "All my therapy ever got me was helping me overcome my childhood trauma — useless."
Although she wasn't there for the beginning, Trevor also praised Beyonce, joking she had been the one to inspire his departure from 'The Daily Show'.
He said: "Beyoncé is nominated for her album Renaissance, which by the way, was better than anything from the actual renaissance in my opinion.
"The Renaissance was just pictures of grapes and stuff. Beyoncé took it to another level. I was so inspired by the lyrics of 'Break My Soul' that I actually quit my job. That's how powerful that was. I just wish Beyoncé had also written a song about the importance of having savings before you quit your job, but maybe the next one."
But the South African comic wasn't afraid to take a serious tone either, and ahead of the In Memoriam segment, he reflected on the importance of music in bringing people together.
He said: "It's Black kids and white kids rejecting segregation in the 1950s, and instead, blending R B, country and even gospel into rock and roll.
"In the 1980s, a young black rapper from Queens and a Jewish white kid in his NYU dorm came together to make some of the greatest hip-hop of all time. They made a powerful new sound together because they were different.
"Music isn't just the harmony of sound. It's the harmony of human beings of different races, genders, religions, identities, sexual orientations … rejecting division to find moments of joy and unity and harmony, and that's what music is all about."