DNC Chair Howard Dean is urging officials from Michigan and Florida to propose plans to re-do their state primary contests, the AP reports: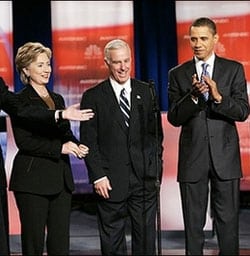 "The two state parties will have to find the funds to pay for new contests without help from the national party, Dean said. 'We can't afford to do that. That's not our problem. We need our money to win the presidential race,' he said. Officials in Michigan and Florida are showing renewed interest in holding repeat presidential nominating contests so that their votes will count in the epic Democratic campaign. The Michigan governor, top officials in Hillary Rodham Clinton's campaign, and Florida's state party chair all are now saying they would consider holding a sort of do-over contest by June. That's a change from the previous insistence from officials in both states that the primaries they held in January should determine how their delegates are allocated. Clinton won both contests, but the results were meaningless because the elections violated national party rules."
The Detroit Free Press reports: "Michigan Gov. Jennifer Granholm, a Clinton supporter, said the victory in Ohio changes "the landscape a bit" and could open the door to a Democratic caucus -- not a primary -- in Michigan, though it would have to be privately funded and both candidates would have to agree. 'Michigan and Florida votes should count. To not count them at all would alienate these states in the general election,' she said."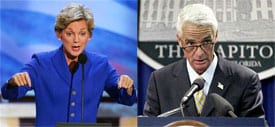 And according to the Tampa Bay Tribune, "Florida Sen. Bill Nelson, the state's senior elected Democrat, called Gov. Charlie Crist on Wednesday to discuss the possibility, according to a spokesman. The two agreed that Florida taxpayers shouldn't pay the tab, and Nelson thinks the Democratic National Committee should bear the cost, said Nelson spokesman Dan McLaughlin. A statewide vote would likely cost into the double-digit millions. Meanwhile, Crist, a Republican, issued a joint statement along with Democratic Michigan Gov. Jennifer Granholm calling it 'reprehensible" and "intolerable' that both national parties are penalizing Florida and Michigan over their primary dates. 'Seat our delegates,' Crist and Granholm demanded."
Howard Dean's appearance on MSNBC this morning, AFTER THE JUMP...