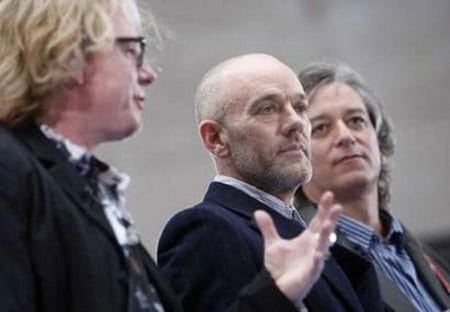 Michael Stipe talks to The Huffington Post's Scott Thill, and though back in January he told Sirius' Jane Pratt that for some unknown reason Mike Huckabee's charms were luring him in, this time Stipe makes it clear to Thill that he's a Democrat.
Says Stipe: "I'm for Barack Obama all the way. The Clinton campaign has took a desperate turn and has, I think, shown its true colors. How dare they use fear against Americans after these past seven years? I'm really tired of politicians telling me what to be afraid of. On the other hand, Obama is hopeful, grounded and clearly intelligent. He is, relatively, an outsider to the beholden D.C. club, and I think that is what America is calling out for; not a career politician but a true outsider candidate. He represents I think the true spirit of the beginning of the 21st century. Looking back, I feel like we've all had enough of the fear and the arrogance, and losing our place in the world. Our very big idea of a country and democracy has been brought to a near end by very small people."
Stipe and R.E.M. performed this morning in New York's Rockefeller Center for the Today show. That performance, and interview, is AFTER THE JUMP...
You may have missed…
Michael Stipe Has an Announcement to Make [tr]
Michael Stipe comes out? [tr]
Michael Stipe Hearts Huckabee, But He's Not Sure Why [tr]