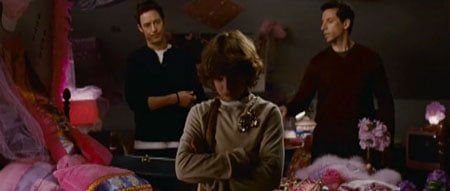 Breakfast with Scot opened L.A.'s Outfest film fest last night at the Orpheum Theater in downtown Los Angeles. The Canadian film (based on a 1999 novel by Michael Downing) tells the story of a gay couple (a former Toronto Maple Leaf and the team's lawyer) who become the guardians of an eleven-year-old boy struggling to understand his sexuality. More of the fests offerings and intentions were written up today in The Hollywood Reporter.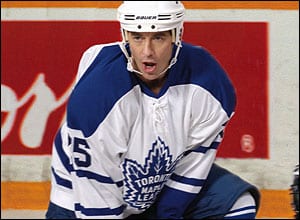 According to the industry paper, "This year's Platinum programming pays tribute to underground punk mutineer Bruce LaBruce with screenings of his 'Super 8 1/2' (1993) and new 'Otto; or, Up With Dead People' (Strand Releasing) at Redcat. This year's highest honor, the Outfest Achievement Award, will go to filmmaker Donna Deitch, whose 1985 'Desert Hearts' made waves for its earnest and positive portrayal of lesbian romance. Outfest also has selected a small number of "centerpiece" films for Gala screenings. This year's opening- and closing-night galas at the Orpheum Theatre are 2007's 'Breakfast With Scot' and 2008's 'Tru Loved,' both of which depict families helmed by gay and lesbian parents in tree-lined suburbia. Likely to create buzz this election year are films in the Outing Politics series, including the Oscar-winning 1984 documentary 'The Times of Harvey Milk,' a narrative version of which will be released by Focus Features this year, and Dan Butler's satire 2007's 'Karl Rove, I Love You,' which centers on an unknown actor's obsession with the Dubya handler."
Breakfast with Scot made headlines in 2006 as it was the first gay-themed film to be endorsed by an NHL franchise, the Toronto Maple Leafs. The endorsement, of course, rattled wingnuts like James Hartline, who slammed the endorsement and the film's gay parenting message. The movie's star Tom Cavanagh talked about playing gay last year and his onscreen kiss with actor Ben Shenkman. Said Cavanagh of the kiss: "Let me quote Keats here: 'Beauty is truth, and truth is beauty.' And when you're as good-looking as Ben Shenkman, it doesn't matter if you're a man or a woman. Although, I'm not sure if Ben's wife wants to hear me say that."
Watch the trailer for Breakfast with Scot, AFTER THE JUMP...