Contempt of Congress is punishable by up to a year in prison though the chance of him making it there is highly unlikely: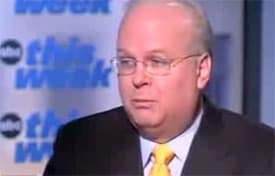 "The House Judiciary Committee voted along party lines, 20 to 14, to cite Mr. Rove for defying its subpoena to testify in an inquiry into improper political meddling in the department. 'Mr. Rove has left us no option,' said Representative John Conyers, the Michigan Democrat who is chairman of the committee. Mr. Conyers expressed regret that the committee had been forced to use its subpoena power. The panel's top Republican, Representative Lamar Smith of Texas, accused Democrats of conducting 'witch hunts' and neglecting the people's real business, like energy needs and border security. The committee recommendation now goes to the full House, which voted in February to hold two other former White House officials in contempt in connection with the same inquiry. The House's votes against Joshua B. Bolten, the former White House chief of staff, and Harriet E. Miers, the former White House counsel, were the first Congressional contempt citations against the executive branch since the presidency of Ronald Reagan."
AFTER THE JUMP, Brave New Films' take on what Rove deserves...