A Welsh man who played his Cher albums too loud has been fined £250 and had his music equipment and CDs "seized and destroyed" by authorities: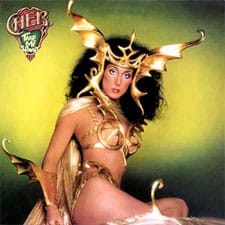 "While [Karl] Wiosna was upset about the seizure and fine, he seemed most angry at being characterised as a Cher fan. 'I didn't play the music that loud,' he told Wales On Sunday, 'and it wasn't just Cher, I used to play heavy metal as well.' For weeks, Wiosna had been enjoying Cher – and, er, heavy metal – in his Phillip Street home. And he had been driving his neighbours batty. 'A legal notice under the Environmental Protection Act was served on Wiosna demanding he reduce the volume or stop playing music,' explained a Council statement. 'Just a week after the legal notice was received, officers were called to the address during an out-of-hours emergency by a neighbour....Environmental health staff in the front room of the property next to Wiosna's could hear the music so clearly they could pick out the lyrics.'"
Cher honors America, AFTER THE JUMP...