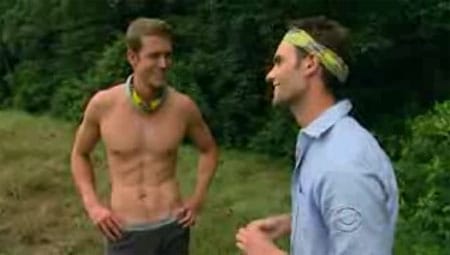 So last night I caught the premiere of Survivor: Gabon. Charlie, the gay NYC lawyer, immediately struck up an alliance with the hottest member of his tribe, Marcus. As well as a major crush.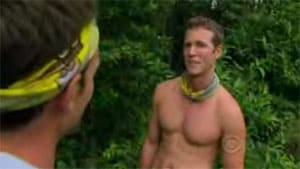 CHARLIE: "I feel that I have a special bond with Marcus. Ever since I saw him on the mat and he picked me, I just felt this connection in his deep, blue beautiful eyes."
MARCUS: "The thing with Charlie is, I think he's attracted to me but you know, I'll be honest. I don't see any romance between Charlie and I. I think he's a great guy, you know. I can see that he's handsome and smart and all those things. I really can appreciate that about him. It's just not really the way I roll. I'm straight, so... We're in Eden, but there's no two Adams here."
Marcus however, most definitely appreciates the attention...
Watch it, AFTER THE JUMP (starts at 7:21)