The press are getting impatient over the 40-day McCain-Palin media blackout, Politico reports: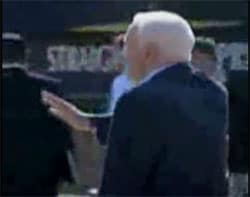 "The unfolding boycott is the latest development in a rocky relationship between Palin's handlers and the press, in which the campaign has sought to tightly control her interactions with the media. The campaign had originally indicated that the print reporters following her campaign would be among the small group of journalists allowed to attend the so-called 'pool sprays' before Palin's meetings with dignitaries on the sidelines of the U.N. meetings."
This morning, the campaign banned print journalist Elizabeth Holmes of the Wall Street Journal from the sprays (because there would be no "questions or statements" of course), but then relented after uproar ensued, allowing Holmes to cover the next two sprays. More here...
Think Progress notes that in Ohio today, John McCain shuffled past journalists to his bus without answering any questions, prompting one to yell, "Has your bus become the No Talk Express?"
Watch it, AFTER THE JUMP...