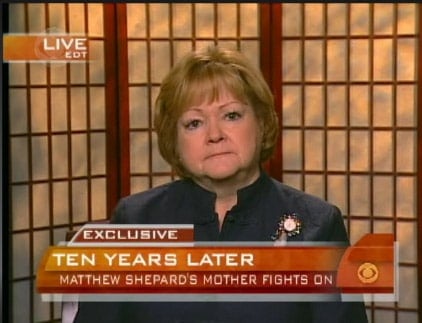 It was ten years ago tonight, on the night of October 6, 1998, that Matthew Shepard was beaten by Aaron McKinney and Russell Henderson and left to die tied to a fence near Laramie, Wyoming. He died five days later, on October 12.
This morning, Judy Shepard appeared on The Early Show to discuss the progress that has (and hasn't) been made since Matthew's murder. Wyoming still does not have a hate crime law that covers sexual orientation.
Said Shepard: "I'd like to say yes it surprises me, but no it doesn't."
Watch it, AFTER THE JUMP...