ET's Thea Andrews talked to George Takei about William Shatner's extended rant attacking former co-star George Takei. Takei tells her that Shatner, in fact, was invited but never responded. He also challenges Shatner to join them in the campaign against Proposition 8.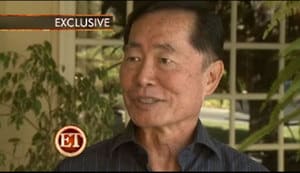 Says Takei: "It is absolutely baffling to us because in fact we did invite Bill and we didn't hear from him but it isn't surprising because it's true to his history...He's never responded to an invitation. For instance, every time there was something happy to celebrate amongst us, like getting sa star on Hollywood Blvd - he never showed up, even for [Star Trek creator] Gene Roddenberry. In fact, the most surprising thing is he didn't even show up for Gene Roddenberry's funeral.
"But Billl's ranting and raving is just silliness. What's really important to us right now is Proposition 8, this very discriminatory law that's trying to take away our beautiful marriage. And I have another invitation for Bill, I invite him to join us in voting no and campaigning no on Proposition 8. We'll see how he responds to that!...We welcome him to join us in defeating Proposition 8. No on Proposition 8."
Takei also responds to statements by Shatner that he waited to come out till he was 70:
Says Takei: "I had been out for decades. Bill just didn't know it, I suppose. And the only thing I had not done was talk to the press about it. But I've been active in gay issues, gay organizations. I was even a member of a gay running club. That's where I met Brad. The only thing I hadn't done was talk to the press, and I guess the press defines what is coming out."
Watch it, AFTER THE JUMP (and I apologize that it's an 'autoplay' clip - if anybody comes across a YouTube clip that's not autoplay, please let me know and I'll substitute it)...