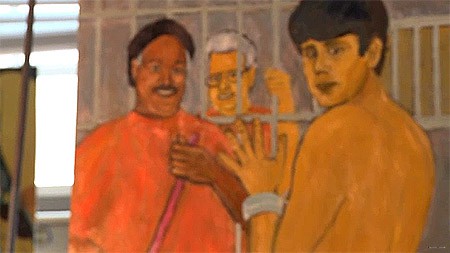 An artist who received press for his nude painting of Sarah Palin during the presidential campaign is back in the spotlight. The Chicago Tribune reports that Bruce Elliott has nearly completed the latest entry in his "nude governor series," a painting of Illinois Governor Rod Blagojevich wearing an orange prison jumpsuit around his ankles. The work is entitles "The Cavity Search".
The painting will hang alongside his others in his wife's Chicago bar, the Old Town Ale House.
Elliott told the Trib: "I was stunned when I found out what that criminal complaint [outlined]. Hopefully, someone is going to find this irreverent."
Watch the interview, AFTER THE JUMP...