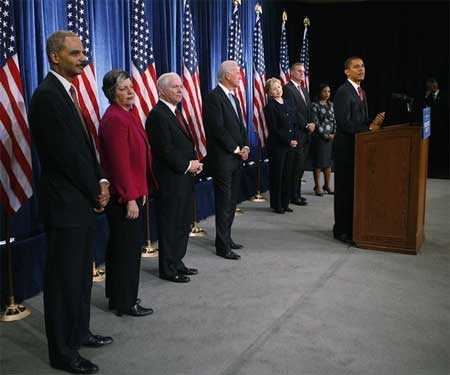 Obama introduced Hillary Clinton as his Secretary of State along with the rest of his national security team at a press conference earlier today:
"He introduced his team one by one, starting with Senator Clinton, his former bitter rival for the Democratic presidential nomination; then Defense Secretary Robert M. Gates, who will stay on, at least for a time, in the new administration; Gen. James L. Jones, the former NATO commander, to be national security adviser; Gov. Janet Napolitano of Arizona to be secretary of homeland security: Susan E. Rice to be ambassador to the United Nations, and Eric H. Holder Jr. to be attorney general. All of the nominations had been expected, and the president-elect's announcement contained no surprises. It did, however, contain some not very thinly veiled criticism of the Bush administration. 'Hillary's appointment is a sign to friend and foe of the seriousness of my commitment to renew American diplomacy and restore our alliances,' Mr. Obama said, apparently alluding to the effects of President Bush's Iraq policy — which the president-elect has bitterly criticized — on America's international relationships."
Watch the press conference (via TPM), AFTER THE JUMP...