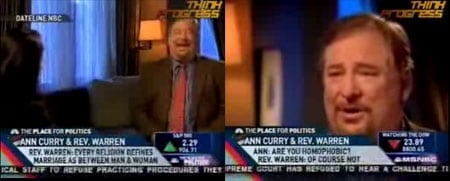 After dismissively laughing at Curry's question, Warren explains: "When the protestors came we served them water and donuts."
And some of his best friends are gay...
Watch the preview of Dateline NBC's interview with Rick Warren to air tomorrow night,
AFTER THE JUMP...
I put this clip in our TowleroadTV widget on the right side of the site where you can find all the clips relevant to the Rick Warren inauguration invitation.