One more sad death to add to those over the Christmas holiday: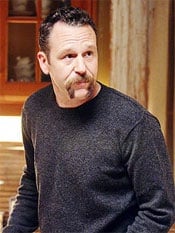 "The front door to John Costelloe's Sunset Park home was still sealed with police stickers yesterday, more than a week after the rugged 47-year-old actor committed suicide. Costelloe, a former FDNY firefighter, shot himself in the head in his basement bedroom on Dec. 16, cops and pals said. 'It's beyond me. This is too much for me to handle right now,' the actor's dad, Michael Costelloe, 77, said yesterday. Firefighter and former colleague Matt Dwyer couldn't believe his friend was gone. 'He was a great guy. Everyone's completely in shock,' said Dwyer, 37, at Ladder 110 in Brooklyn. 'I saw him three weeks ago when he stopped by, and he seemed to be in good spirits.' Costelloe had a crucial four-episode arc on 'The Sopranos' in 2006, playing short-order cook Jim 'Johnny Cakes' Witowski. In the hit HBO series, actor Joseph Gannascoli - a longtime friend of Costelloe's - played mobster and closeted homosexual Vito Spatafore, who fled New Jersey after he was outed. While on the run in New Hampshire, Vito met Witowski, whose specialty was Johnny cakes, a cornmeal pancake. 'Sopranos' writers seemed to take a page from Costelloe's firefighting past and included it in the storyline. In the show, Vito became attracted to Johnny Cakes once he learned the short-order cook was a volunteer firefighter, before being whacked by his homophobic rivals."
At the time of his suicide, Costelloe was acting in the off-off-Broadway production of Gang of Seven, which, according to the Post: "had received sterling reviews - including two printed the day after he died."
A clip of Vito's storyline in which Costelloe appeared, AFTER THE JUMP...