He can't stand to be out of the limelight.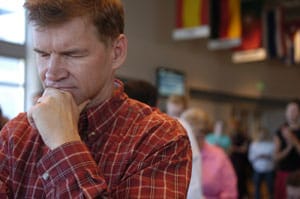 Ted Haggard will promote a documentary directed by Alexandra Pelosi that follows the disgraced pastor and his family after he stepped down from New Life Church following revelations that he bought meth and had sex with male escort Mike Jones.
Said an HBO spokesperson: "We look forward to presenting the film, Ted Haggard and his family at a press tour in Los Angeles next month."
The AP reports: "Neither Pelosi nor Haggard responded to requests for comment on the documentary, which is scheduled to first air Jan. 29. However, a Web site for a Toronto-based entertainment company that promotes HBO and other television projects describes it as 'a behind-scenes-look at the rise and fall of Pastor Ted Haggard.' The 41-minute documentary 'follows Haggard and his family as they move from houses to motels as the excommunicated pastor tries to redeem himself and support his loved ones,' it says."
Haggard, who recently began speaking publicly again, has been released from restrictions placed on him after the scandal, according to New Life's new pastor Brady Boyd. Said Boyd: "They are not acting outside any parameters we set for them. We want them to be free to move forward with their lives the way New Life has really moved forward."
Watch a clip from the 2007 HBO documentary Friends of God: A Road Trip with Alexandra Pelosi, which was filmed before the scandal, AFTER THE JUMP...