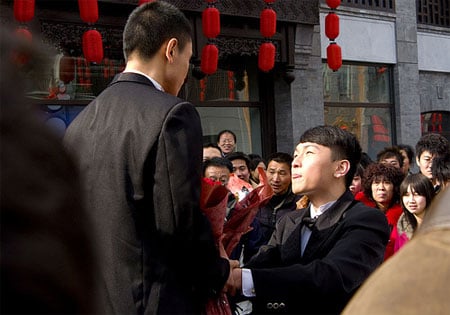 Two men and two women took part in a same-sex marriage demonstration in Beijing on Valentine's Day, the Wall Street Journal reports:
"Reactions to the protest were divided; while many onlookers expressed support, saying they were aware there are many openly gay men and women in China now, others were not sympathetic to the cause. On the Internet, thousands of people who responded to news stories about the event were divided as well. One person responded to a news story on the protest by asking women not to date other women anymore. 'Make some contributions to the tens of millions of single males [in China],' this person wrote, alluding to China's current gender imbalance. Another said heterosexual unions weren't necessarily better: 'Love is love, and there is no specific reason. Who can say that there is no real love between them? How many males and females end up in divorce?" But no one, including the guards in the area on Saturday, tried to stop the group from its demonstration."
Watch some short live footage from the event, AFTER THE JUMP...
Gay Pride on Valentine's Day in Beijing [wsj]
Activists hold mock wedding photo session on Beijing streets [fridae]