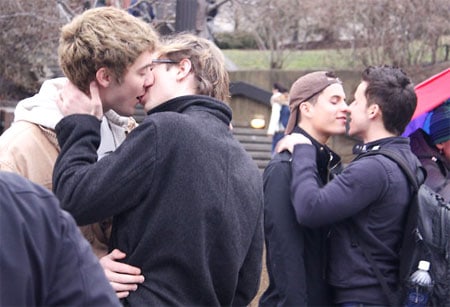 Approximately 20 students at Cornell University staged a Valentine's Day kiss-in demonstration on campus:
"Direct Action to Stop Heterosexism sponsored the event, according to kiss-in participant Ashley McGovern '09. She explained that heterosexism is 'kind of like homophobia except heterosexism has to do with all facets of society … so the normalization of heterosexuality in society.' Heteronormativity refers to the idea that heterosexuality is the 'normal' sexual orientation. This includes the notion that people fall into two discrete categories — male and female — and that sexual relations are normal only between two people of different sexes. DASH didn't necessarily have sweeping or profound aims for the kiss-in, according to McGovern."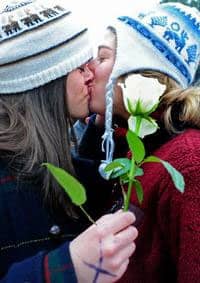 Across the country, at the University of Colorado Boulder, as I posted about on Friday, students staged a "Make Out Stake Out" flash mob action:
"At exactly 11:53 a.m. on the day before Valentine's Day, about 100 gay and straight students gathered around the Dalton Trumbo Fountain on campus. Some couples made out while other people held hands or hugged each other. After two minutes, the students walked off in different directions as if nothing happened. The event was meant to express their frustration because 'same-sex public displays of affection are often treated with less tolerance' than heterosexual displays, according to the organizers' Facebook event page. Kern and her friends organized the event, she said."
Videos of the action at Boulder, AFTER THE JUMP...