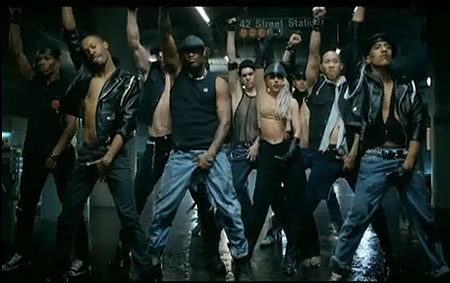 Here's Lady GaGa's video for her next single "LoveGame". The video was directed by Joseph Kahn and shot mostly in Los Angeles (though it features the NYC subway) in early January. Two Great Dane dogs, which featured in her early videos for "Poker Face" and "Eh, Eh" also appear briefly here in an early shot as she descends a staircase in the subway.
The clip features some steamy lesbian action, as well as an odd bit of Campari product placement.
Lady GaGa has discussed her bisexuality in the past. She told HX in August: "I love men, I love women and I love sex, but I'm actually pretty introverted right now because I'm so enveloped in my work, and it's hard to let anybody near that. People fuck with your energy, and it's very hard to find people that are supportive of your art and don't want to take time away from it. A lot of times, boyfriends and girlfriends get jealous and want all your attention, and I really don't have time for that."
Watch the video, AFTER THE JUMP...