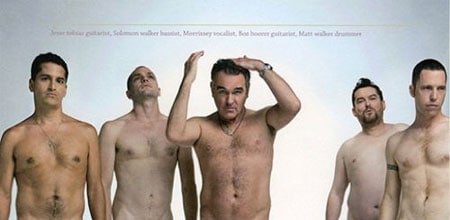 Here's the revealing inside sleeve artwork for the 7-inch version of Morrissey's upcoming single "I'm Throwing My Arms Around Paris" featuring barely clad Moz and his bandmates wearing, I guess you could call them vinyl singlets. Here's the video.
Given that we've already seen the other side, he's now given us practically a full look.
Check it out, AFTER THE JUMP (possibly NSFW)...
You may have missed...
Morrissey's Arse One of His Greatest Hits?
Morrissey's Year of Refusal [tr]