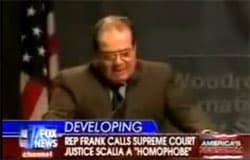 FOX news attacks Barney Frank for calling Antonin Scalia — a man who has said that gay kindergarten teachers might "induce" children to become homosexuals, has compared homosexuality to murder, cruelty to animals, or polygamy, and has said that laws against gay sex "served the same interest" as laws against bestiality and incest — a "homophobe."
How dare he!!!
If you missed it the other day, here's the interview to which they're referring.
FOX clip, AFTER THE JUMP...
Fox News Attacks Barney Frank For Accurately Characterizing Scalia's Views As Homophobic [think progress]